Book launch – A Sociology of Japanese Youth: From Returnees to NEETs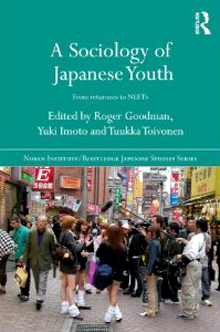 Date: 27 February 2012, 6:00pm
Venue: Daiwa Foundation Japan House, 13/14 Cornwall Terrace, Outer Circle, London NW1 4QP
Tel: 020 7486 4348
Email: office@dajf.org.uk
Web: http://www.dajf.org.uk
Organiser: The Daiwa Anglo-Japanese Foundation
Over the past thirty years, at the same time as Japan has produced a diverse set of youth cultures – such as anime and manga – which have had a major impact on popular culture across the globe, it has also developed a succession of youth problems which have led to major concerns within the country itself.
This volume looks at some of the best-known of these problems, from the concern over the so-called returnee children (kikokushijo) in the 1970s, to the panic over young girls selling themselves for sex (enjo kosai) in the 1980s, to the debates over physical punishment (taibatsu) and child abuse (jido gyakutai) in the 1990s, to the most recent issues of young people shutting themselves away in their room (hikikomori) or appearing to withdraw completely from both the education and the labour market (NEETs).
Drawing on detailed empirical fieldwork, the authors set these issues in a clearly articulated 'social constructionist' framework that explains why particular youth problems appeared when they did and what lessons they can provide for the study of youth problems in other societies.