British Music for Lute and Early Guitar: Played by Taro Takeuchi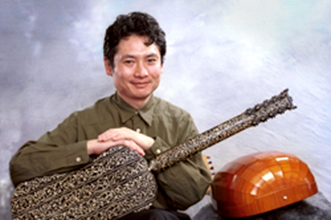 In the Renaissance and Baroque periods, the lute and the guitar ruled as king and queen of musical instruments. The lute gained popularity in Europe during the Middle Ages and soon took on an important role in music making. In the 16th and early 17th century in Britain, the lute was much loved by nobles such as Henry VIII and Elizabeth I. The Baroque guitar came to Britain in the 17th century from France. Charles II and Samuel Pepys were great lovers of the guitar. The English guitar was invented in Britain in the middle of the 18th century and instantly became popular among citizens.
In this concert respected early guitar/lute player Taro Takeuchi will perform some of the finest pieces for those instruments from the 16th, 17th and 18th century Britain. The concert will include pieces by John Dowland, Henry Purcell, Francesco Geminiani, George Frideric Handel and others. Taro Takeuchi uses antique guitars from the 18th century as well as a faithful modern copy of an original 16th century lute.
Taro Takeuchi
Taro Takeuchi was born in Kyoto, Japan. After completing his degrees in law and music in Tokyo, he studied early music at the Guildhall School of Music and Drama. He now lives in London and he has been in great demand as a soloist and ensemble player. Taro has toured most European countries, Australia, New Zealand, Taiwan, the USA and Japan. As a continuo player he has worked with The English Concert, The Royal Opera House, The Orchestra of the Age of Enlightenment, Berlin Philharmonic, as well as Sir Simon Rattle, Rachel Podger and Nigel Kennedy. He has made numerous recordings for Deux-Elles, EMI, Hyperion Records, Harmonia Mundi, the BBC and others. His solo recordings Folias!, The Century That Shaped the Guitar and Affectuoso: Virtuoso Guitar Music from the 18th Century were received with critical acclaim and high praise.
Taro Takeuchi's website
Admission Free but booking is essential at www.dajf.org.uk/bookin
Date: 25 September 2012, 7:00pm
Venue: Daiwa Foundation Japan House, 13 – 14 Cornwall Terrace, London NW1 4QP. Nearest tube: Baker Street
Tel: 020 7486 4348
Email: office@dajf.org.uk
Web: http://www.dajf.org.uk
Organiser: The Daiwa Anglo-Japanese Foundation