Using "Marugoto: Japanese language and culture," a teaching resource based on JF Standard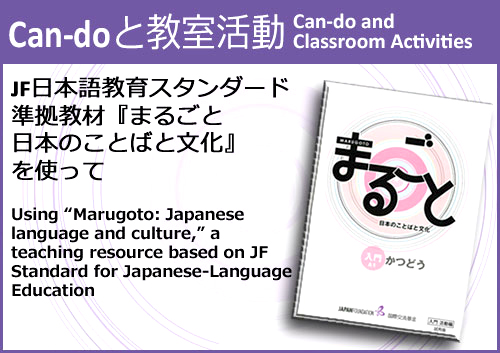 Date and Time: February 4th (Saturday), 14:00 – 17:00
Venue: The Japan Foundation, London
Lecturer: Seiji Fukushima (Japan Foundation London)
Fee: £3.00 (both BATJ members and non-members)
Language: Japanese
In May 2011, the Japan Foundation published the trial version of Marugoto: Japanese language and culture, an A1 level textbook based on JF Standard for Japanese-Language Education. Marugoto was developed in order for students to learn both language and culture together, in accordance with JF Standard's basic principal of Japanese for mutual understanding. It therefore features a wide range of techniques, including Can-do target and level settings and portfolio assessment, designed to promote competence in accomplishing tasks (what a person can do by using Japanese) and competence in intercultural understanding (understanding and respecting other cultures by expanding one's horizon through encounters with various cultures).
In this seminar, participants will examine the relationship between A1 level Can-do and classroom activities, using Marugoto as an example. Additionally, as intercultural understanding is now arguably a key feature of modern foreign languages in UK secondary education, participants will also discuss how Marugoto addresses the issue of intergrated language and cultural teaching methods.
This seminar is co-organised by the Japan Foundation and the British Association for Teaching Japanese as a foreign language BATJ.