Carving the Future – Contemporary Japanese Sculpture Today Talk with Noe Aoki and Teppei Kaneuji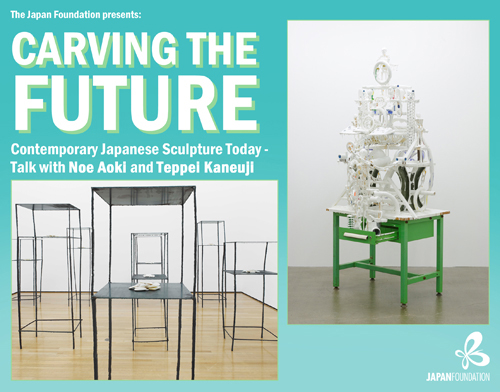 Sculpture continues to be a focal part of contemporary Japanese art, and many world-renowned Japanese artists employing the medium have participated in exhibitions and art festivals around the world. A medium which has globally undergone many radical transformations in past decades, Japanese artists have similarly attempted to challenge its notions, endeavouring to reinvent and redefine the practice, and employing a wider range of materials and processes to create dynamic works.
On the occasion of the exhibition Logical Emotion: Contemporary Art from Japan* taking place in Germany, the Japan Foundation London has invited two participating artists, Noe Aoki and Teppei Kaneuji – artists with vastly different styles and approaches to sculpture. Together with Mark Rappolt (chair), editor of ArtReview, and Professor Edward Allington, Slade School of Fine Art, they will explore the way artistic practice with the medium of sculpture has evolved in Japan, referring to the artists' works and the concepts behind them, while questioning what the future may hold.
Noe Aoki is considered to be one of Japan's most respected sculptors, renowned for making large structures from iron and steel which surround people and spaces often appearing as if they are floating in the air.
Teppei Kaneuji is an artist producing sculptures, installations and collages from found objects and playful assemblages of everyday commodities, fashioned from familiar items such as helmets, scissors, and plastic toys.
Date: 18 May 2015 from 6.30pm
Venue: Asia House, Studio, 63 New Cavendish Street, London W1G 7LP