Charity Lunch for the Tohoku Tsunami Relief Effort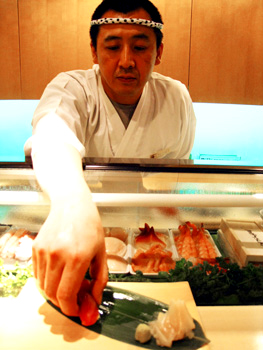 Date: Friday, 27th May 2011 – 12:00 or 12:30
Venue: Matsuri St James's, 15 Bury Street, London SW1Y 6AL (Green Park/Piccadilly tube)
Price: £35.00 per person (drinks not included)

The magnitude 9 earthquake and subsequent tsunami of March 11 has caused huge loss of life, destruction and suffering in the Tohoku region of Japan. The cost of rebuilding homes and lives will be immense, and Matsuri St. James's would like to appeal to our friends here in the UK to help raise money for the relief effort by supporting two charity lunches where you will be entertained with tasty cuisine and live magic shows at the table. David Bonsall, our magician for the day has kindly agreed to be a part of this charity lunch (for more information about David Bonsall please visit www.fingertipmiracles.co.uk).
Starter
Your favorite choice of:
Club meat marinated with Japanese rice vinegar
Iberian pork shabu‐shabu salad
Assorted vegetable tempura
Main course
Your favorite choice of:
Free range chicken teriyaki
Assorted seafood
Scottish rib‐eye steak teriyaki
Tofu (bean curd) steak
(Served with white rice and miso soup)
Dessert
Fireball ice cream
All proceeds will go to the Disaster Response Headquarters of Fukushima and Miyagi prefectures. Many people have had to evacuate from Fukushima due to the nuclear power station, and Miyagi has suffered the worst damage from the tsunami. If you can't make it to either of the charity lunches, you can still contribute via our donation box, located next to the reception desk at Matsuri St James's.