'Cherry' Ingram – the English Saviour of Japan's Cherry Blossoms – with Naoko Abe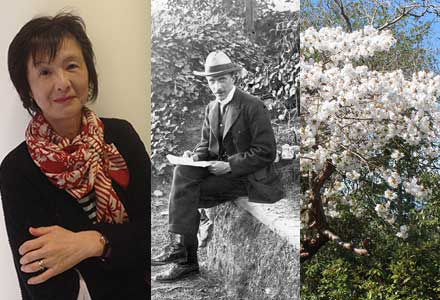 Collingwood Ingram (1880-1981) was a self-taught English botanist whose passion for the Japanese cherry blossom saved many unique and rare varieties of this iconic flower from extinction. Based on 'Cherry' Ingram's diaries, original documents and scores of interviews, Naoko Abe's book examines the life of a plant hunter extraordinaire and the enormous impact that his pioneering work has had on cherry blossom cultures around the world.
In this lecture, Naoko will talk about Ingram's first sojourn in Japan in 1902 and his historic speech in Tokyo in 1926 exhorting Japanese royalty and industry leaders to save the dying blossoms at a time of rapid modernization and Westernization. She will discuss how the blossoms survived and will examine the flowers' political and cultural heritage throughout the 20th century, including their role in Japanese militarism during World War II and the evolution of a cloned cherry that's become the global symbol of modern Japan.
Naoko will also talk about how sakura helped ease tensions over U.K.-Japan prisoner-of-war issues in the 1990s and the current state of cherry blossom diplomacy between the two countries.
Born in Nagoya, Japan, Naoko Abe is a former staff writer for the Mainichi Newspaper, one of Japan's most influential newspapers. She covered the prime minister's office and travelled around the world with the paper. She moved to London in 2001. As a freelance journalist/non-fiction writer, Naoko has written extensively about British society and published six books in Japanese. Her most recent non-fiction book, 'Cherry' Ingram – the English Saviour of Japan's Cherry Blossoms won the prestigious Nihon Essayist Club Award in 2016. She is currently writing an English version of the book, to be published in February 2019 by Chatto and Windus, an imprint of Penguin Random House.
Date: Monday 16 April 2018 6:45pm
Venue: The Swedenborg Society, 20-21 Bloomsbury Way, London WC1A 2TH