Christmas Concert Viola and Piano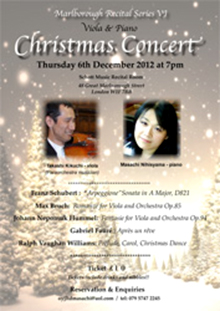 Performers:
Takashi Kikuchi – viola ( Paraorchestra musician)
Masachi Nishiyama – piano
Programme:
Franz Schubert: "Arpeggione"Sonata in A Major, D821
Max Bruch: Romanze for Viola and Orchestra Op.85
Johann Nepomuk Hummel: Fantasie for Viola and Orchestra Op.94
Gabriel Fauré: Après un rêve
Ralph Vaughan Williams: Prelude, Carol, Christmas Dance
Takashi Kikuchi – viola
Takashi Kikuchi began studying the viola at Tokyo University of Musical Arts in 1988, where he was awarded the Doctor of Musical Arts in 2003. As part of his Doctoral studies he came to the Royal Academy of Music, London. During his time at the Royal Academy, Takashi was awarded the teaching diploma LRAM and the Lawson Award.
His career spans Asia and Europe with recent performances in Great Britain including recitals for the Schubert Music Society, Treasury Music Society in Whitehall, Victoria and Albert Museum, Handel House Museum, in Worcester, Norfolk and Lincolnshire as well as an early evening concert performance at the Queen Elizabeth Hall. Takashi enthusiastically champions British repertoire with a Pianist, Rachel Fuller. Their CD 'The Voice of the Viola' is gaining fast recognition particularly in Japan, New Zealand, Norway and the USA.
In addition to classical music, he recently collaborates with the musicians from a various background. As a member of the British Paraorchestra, Takashi performed in a number of significant events over the summer including Orchestra in a Field, Snape Maltings Proms and The London Paralympics Closing Ceremony and looks forward to further involvements.
Masachi Nishiyama – piano
Masachi Nishiyama is a most engaging performer, demonstrating superb control and sympathy with the music" ~Classical Source " quite stunning" ~ Music & Vision
Masachi is increasingly gaining recognition for her work both as soloist and as a collaborative pianist. Masachi has performed at prestigious venues across Europe and Japan, and at music festivals worldwide. Masachi has great success in many competitions, including First Prize at the Hokkaido Music Camp, Special Prize at the International Artist Association of Japan , and the Maud Hornby Prize. Her recent London debut solo concert at St. John's Smith Square was highly acclaimed.
Her repertoire encompasses music from the Baroque era to the present day. One of her more recent projects has been to give over twenty recitals of Bach's monumental Goldberg Variations in the UK and she has gained special distinction for the performances. She also has a deep love of the work of Debussy and Ravel and a performance of her Ravel was selected by Piano Magazine as one of the most memorable performances at the Dudley International Piano Competition in 2002.
She was born in Japan and studies there at the Toho Gakuen School of Music. She came to London in 1999 and then completed her studies at the Royal Academy of Music and the Royal College of Music.
Date: 6 December 2012,
Venue: Schott Music Recital Room, 48 Great Marlborough Street, London W1F 7BB
Tel: 07957472245
Email: oyjltdmasachi@aol.com
Organiser: Marlborough Recital Series