CN Blue in London!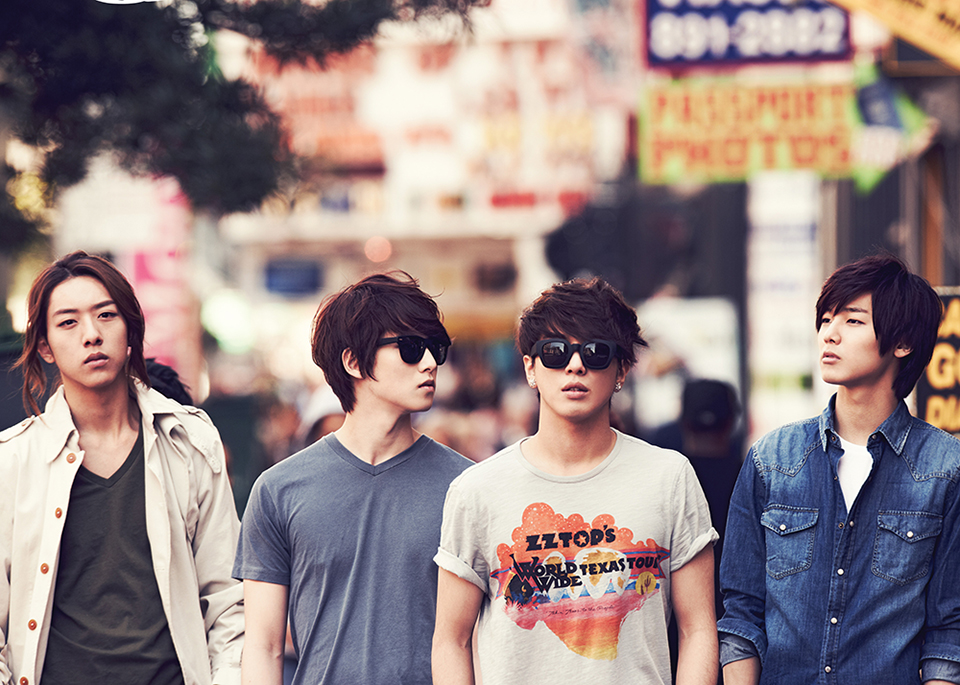 The UK is often seen as the birthing place for some of the best bands and being a nation of live band lovers, making our country a mecca for bands across the world and THE place to perform. Even the Olympics dedicated much of the opening and closing ceremonies to UK's musical history. Over the past year or so, the UK, and in particular London, has found itself host to a great selection of Kpop groups, and now we've found ourselves with one more concert added onto the list, and this time it's a live band!
That's right, CN Blue is coming to our shores! We are especially excited as we've been waiting for this since the announcement by the FNC family in November last year. This will be the first time we see such a huge Korean band play live the UK, instruments and all! This promises to be an amazing concert and a perfect opportunity for Boices to see their boys on stage. It's also a great opportunity for those unfamiliar to CN Blue to learn more about the band and their awesome music. CN Blue would also be a great band for those wanting to introduce their friends to Korean music, as it may be easier for them to relate to a band with instruments, than a dancing idol group. We also have a feeling that male friends and boyfriends would be more at home watching CN Blue than idol groups. Really, this concert would make a perfect event for a whole range of people!
From the official press release:
"indigO2 turns CNBLUE for one night only
September 22nd 2012 – indigO2 at The O2, London
The smash hit 4-piece South Korean K-Pop band, CNBLUE are renowned for their fresh, soft-core rock style and energetic live shows. During their phenomenal reign on the K-Pop scene they have swiftly converted their K-Pop spectators into head-bobbing fans.
This self stylized pop-rock band shot to fame in 2009 with hit album "Now Or Never" and have gone from strength to strength inspiring fans across the world with their unique blend of rock and power pop.
CNBLUE weave genuinely intriguing melodies with the best in Korean pop/rock and are sure to get the UK talking about CNBLUE and the K-Pop scene in general.
The K-Pop phenomenon emerged at the beginning of the last decade and has developed into a hugely popular subculture with aspects of dance, electronic, hip-hop and rock all merged together in what is now an important part of mainstream pop culture. Currently gaining popularity in the UK, this is the first visit to the country for CNBLUE, leading the way for the Korean music invasion.
CNBLUE have recently toured sold out venues from LA to Japan and are now set to take centre stage at London's iconic indigO2 on the 22nd September for an exclusive 'one night only' performance."
For those who went to MBC's Cultural Festival, you'll already be familiar with the venue chosen for this concert. The indigo2 is an intimate arena, where all seats provide a good view. At MBC, it seemed everyone was really happy with their seating, so we guess word got around and we're happy that CN Blue chose this venue too! This time however, downstairs will be standing, so there's a wide range of ticket types to suit everyone's needs. Other things to note about this concert is that although all ages can attend, all those under 14 must be accompanied by an adult. The doors will open at 6pm, and the concert will start at 7pm. CN Blue often have long set lists, so no doubt those going will be in for a treat. Ticket rices range from about £40 – £60 with fees included and tickets went on sale on Tuesday via AEG Live and Ticket Master.
For the people out there who aren't boices, but want to know more about CN Blue, let's take a look at their profile!
CN Blue, of entertainment company FNC Entertainment, have been together since 2009, and have since released three Japanese studio albums and one Korean studio album. Their name comes from the shortening of 'Code Name' (CN) and Blue is from an acronyms of adjectives describing each member (Burning, Lovely, Untouchable and Emotional). The leader, Jung Yong-hwa is the main vocalist, rapper and rhythm guitarist. Lead guitarist, Lee Jong-hyun is also a vocalist. Kang Min-hyuk, the drummer, also acts as a backing vocalist, and bassist Lee Jung-shin is also a rapper and backing vocalist. Since their debut, CN Blue have held many concerts all around the world, which means they've had plenty of stage experience and time to perfect their performances, so everyone will definitely be in for a treat! Apart from being great performers, they're quite easy on the eye too! Always a bonus. CN Blue members have often appeared in dramas and variety shows, so if you want more CN Blue fixes, watching some of their shows would be a great way to build up some excitement before their concert.
CN Blue's upcoming concert will not only mark the UK's next Hallyu concert, but will bring in a wider style of music that we've yet to see from the Hallyu Wave. It will be interesting to see how the British media receives a live band compared to the idol groups we've had before. What cannot be doubted is that everyone who goes will have a fantastic time, and get a chance to see yet another awesome group from Korea! This is an amazing opportunity for the UK, and hopefully everyone who wants to go is able to and will have a fantastic time!
Sources: CN Blue Wiki
Article originally seen on Korean Class MASSIVE