Colin Alexander McVean, a Scottish engineer in early Meiji Japan – with Colin Houston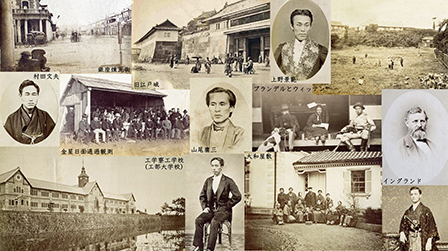 Colin Alexander McVean (1838-1912) was the son of a Free Church minister on the island of Iona, on the western coast of Scotland. He trained as a civil engineer and following some time with the Admiralty survey and the building of railways in Bulgaria and parts of the Ottoman Empire, he headed to Japan as one of the first civil engineers from Scotland at the time of the Meiji restoration. McVean was involved in the construction of lighthouses, had his own foundry business for a period of time and latterly was then appointed Surveyor in Chief to the Emperor of Japan. He was responsible for the first nationwide triangular surveys of Japan as well as public buildings in early Meiji period, including redevelopment scheme of burned Ginza district and construction of the first technical college buildings (the Imperial College of Engineering). He founded the meteorological and astronomical section in the Survey Office, brought in the latest observation instruments including seismographs and in his spare time, as a keen bird watcher, published some works on the ornithology of 'Yedo' (aka Edo, the current Tokyo). In total, McVean spent 8 years in Japan, from 1868 to 1876, and achieved an enormous amount in that time, passing on his skill and enthusiasm to a young team of Japanese recruits in the survey department. Never forgetting his Scottish roots, he took every opportunity to celebrate Scotland and share with others his traditions and culture.
In this lecture, his great-grandson, Colin Houston, will explore the fascinating history of his ancestor in the context of Anglo-Scottish-Japanese relations in Meiji Japan. He will examine personal and archival documents and photos by Colin Alexander McVean revealing a little-known aspect of Japanese modernisation in the late 19th century.
Date: Monday 16 December 2019, 6.45pm
Venue: The Swedenborg Society, 20-21 Bloomsbury Way, London WC1A 2TH