'Come and Sing' Japan Society Choral Workshop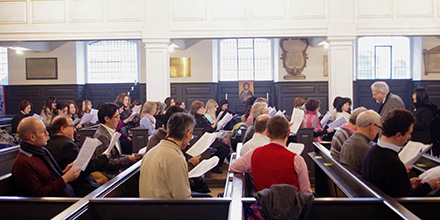 Following a popular and successful event in 2015, the Japan Society is delighted to present 'Come and Sing', a second Japan Society Choral Workshop led by Jonathan Gregory, Director of the UK-Japan Choir and Orchestra and Fellow of the Royal College of Organists.
The event is a fantastic opportunity for Japan Society members to meet and sing British and Japanese choral music in a relaxed environment. No particular musical ability is required; the workshop is suitable for both beginners and more experienced singers. Preparation will not be necessary, but for anyone who does wish to practice prior to the workshop, music can be sent out on request by email shortly before the event.
We will start with singing warm ups, including pitching and Japanese counting games, before tackling arrangements of traditional Japanese songs (written phonetically), and British madrigals such as John Dowland's Fine Knacks for Ladies.
Date: Sunday 24 February  2019, 2.00pm to 4.00pm
Venue: Grosvenor Chapel, 24 South Audley St, London W1K 2PA