Cycle for Japan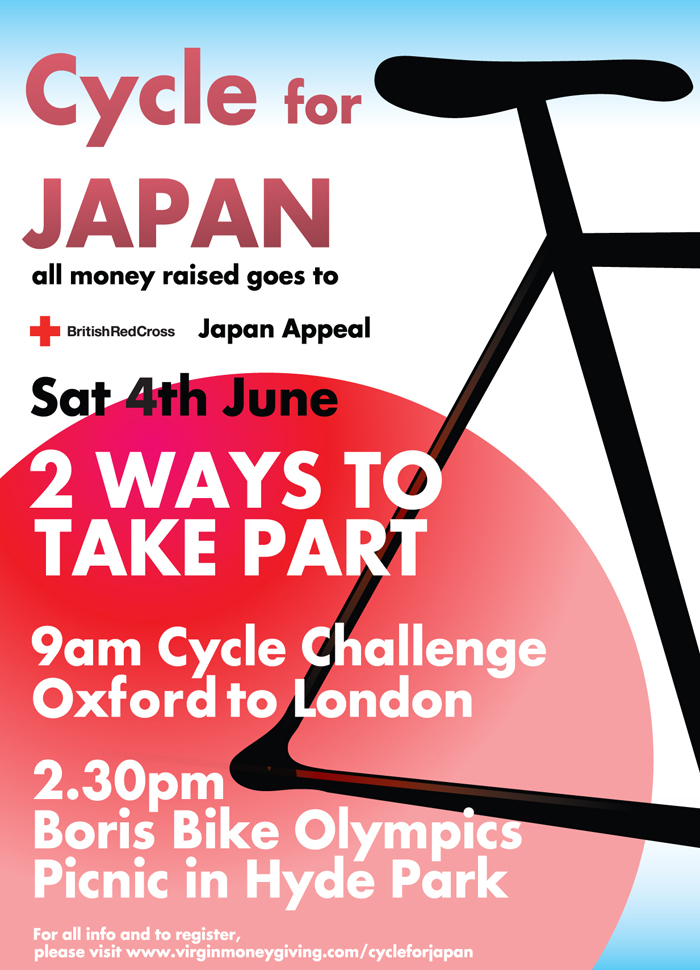 Date: Saturday 4th June 2011
Two ways to take part:
9.00am – Cycle challenge Oxford to London
2.30pm – Boris Bike Olympics / Picnic in Hyde Park
We are keen to do something to show our support for the Japanese people and to try and help them re-build their lives in whatever way we can. We are organising 2 events on Saturday 4th June 2011 and trying to get as many people who would like to take part to come along and join us.
1) We are doing a long distance cycle challenge from central Oxford to Hyde Park in London
2) We will be holding a set of mini-races and challenges in Hyde Park during the afternoon – food, fun and games and the "Boris Bike Olympics".
We welcome all keen cyclists to join us in raising sponsorship by riding the distance challenge with us and encourage everyone to come along to Hyde Park and take part in the "Boris Bike Olympics".
There is no fee for joining the cycle ride, as we hope that people can focus on raising as much sponsorship as possible towards the British Red Cross disaster appeal.
Likewise there is no fee for coming to the picnic and games in Hyde Park, as we hope instead that those coming can make a small donation to the campaign.
Please email robspender@yahoo.co.uk to register your interest in the Oxford-London cycle ride and for more information on the route, timings and posters and publicity for the events.
For all info and to register, please visit www.virginmoneygiving.com/cycleforjapan