DAMO SUZUKI MEETS 23 SKIDOO plus Three Trapped Tigers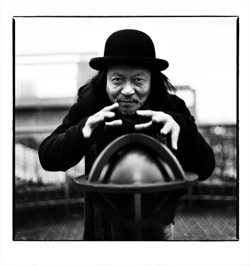 Experimental German rock outfit, Can pushed at the borders of rock, paving the way for everything from industrial through to techno music. They also inspired British bands to break away from simple song structure. One of these UK groups was 23 Skidoo who team up with Can vocalist, Damo Suzuki.
This unique collaboration is supported by Three Trapped Tigers. Bonding over the idea of dragging elements of IDM into the format of a live band – replacing computers with humans, rendering a backing track redundant and adding a humanized dimension to a robotic genre.
Part of the London Jazz Festival in association with BBC Radio 3
18+ Under 18s must be accompanied by an adult
Date: 11 November 2012
Venue: Village Underground, 54 Holywell Lane, Shoreditch, London, EC2A 3PQ
Tel: 020 7422 7505
Web: http://www.villageunderground.co.uk/events/damo-suzuki-meets-23-skidoo
Tickets: £11.50 (plus booking fee)
Organiser: Village Underground