Demonstration: Knife Sharpening with TADAFUSA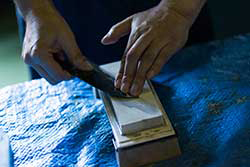 The demonstration is part of the programme of events taking place in conjunction with the exhibition BIOLOGY OF METAL: METAL CRAFTSMANSHIP IN TSUBAME-SANJO, which is open until 28 October 2018 at Japan House London.
Knives forged in the Tsubame-Sanjo region of Japan have been prized in Japan since the 19th century, and today they are internationally renowned.
Visitors to Japan House will have the opportunity to view the exceptional craftsmanship of one of Tsubame-Sanjo's most prestigious bladesmithing workshops with a demonstration on knife sharpening by SONE Tadayuki from Tadafusa.
Date: Saturday 27 October 13:00-14:30, 15:00-16:30 / Sunday 28 October 13:00-14:30, 15:00-16:30
Venue: Japan House, 101-111 Kensington High Street, London W8 5SA
Email: info@japanhouselondon.uk
Web: https://www.japanhouselondon.uk/whats-on/demonstration-knife-sharpening-with-tadafusa/
Organiser: Japan House