Discover Korean Food #10: Dr. Sook-Ja Yoon's "Chicken Salad" (THE EAST Campaign in Association with The Institute of Traditional Korean Food)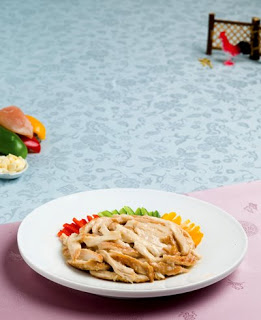 This dish is made with the fat-less chicken breast and vegetables seasoned with apricot seed sauce.
The apricot seed, which tastes sour, helps warm our body.
When the lungs are dry, it helps moisten them and also increase moisture in our body, especially in the stomach.
*Ingredients
* chicken breast 300g, sake 1 tea spoon, salt 1/4 tea spoon, black pepper 1/8 tea spoon
* yellow, red, green paprika 1/4 each, respectively
* apricot seed sauce: apricot seed 20g, vinegar 2 table spoons, sugar 2 table spoons, honey 1 table spoon, salt 1 tea spoon, lemon juice 1 table spoon
*PREPARATION
1. Coat sake on the chicken breast, scattering black pepper over it for basic seasoning. Heat up the pan, spread vegetable oil on the pan and cook the meat on both sides. Tear it apart into 0.7cm by 6cm pieces.
2. Cut the paprikas into halves and remove their seeds, and slice them into 0.5cm by 5cm pieces.
3. Make apricot seed sauce.
4. Mix in the chicken meat, yellow, red and green paprikas and apricot sauce.
*Tips
* Instead of pan-boiling, the chicken breast may be boiled in water.
* For the paprika, other vegetables may be substituted.
* The apricot's endodermis can be removed after soaking in boiling water.
About The Institute of Traditional Korean Food
The Institute is a professional research organisation established and devoted to the research, development, popularisation and globalisation of traditional Korean food. It was founded in 1998 then moved on the 8th of November 2001 to the current location: 164-2 Waryong-dong, Jongno-gu, Seoul.