Discover Korean Food #11: Dr. Sook-Ja Yoon's "Baekbongryeong Salad" (THE EAST Campaign in Association with The Institute of Traditional Korean Food)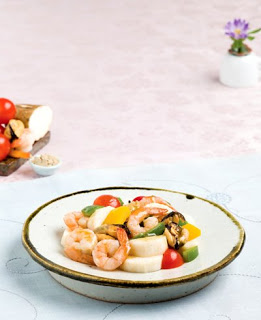 This salad is a mix of mountain herbs, sea food and white hoelen sauce, and good for lessening excessive stresses of the girl at puberty. The white hoelen, which is also called white pine punglyeong, grows on the root of the pine tree after its stem has been cut off. It helps the metabolism of moisture in the skin, thus removing specks and freckles because it contains rasitin and minerals beneficial to the skin.
Materials and Quantity
* mountain herb (yam) 150g, shrimp 100g, mussel 100g, cherry tomato 50g, green pimento 20g, yellow pimento 20g, red pimento 20g
* white hoelen or its juice 10g, water 5 cups, lemon juice 8g, olive oil 20g, sugar 1 table spoon, vinegar 1 table spoon, minced garlic 2g, minced onion 5g, salt 1/4 tea spoon, white pepper 1/8 tea spoon.
Preparations
1. Wash the white hoelen and boil in the pan with water.
2. Par-boil the shrimp and mussel in white hoelen juice, and cool them.
3. Peel off the crust of the mountain herb, cut it into halves. Then cut them into half moon slices, parboiling them.
4. Cut the cherry tomato into halves.
5. Cut pimentos into halves, removing their seeds. And cut them into the shape of the cherry tomato.
6. Make white hoelen sauce and mix in all the prepared materials slowly.