Discover Korean Food 128: Dr. Sook-Ja Yoon's "Pogongyoung Bab"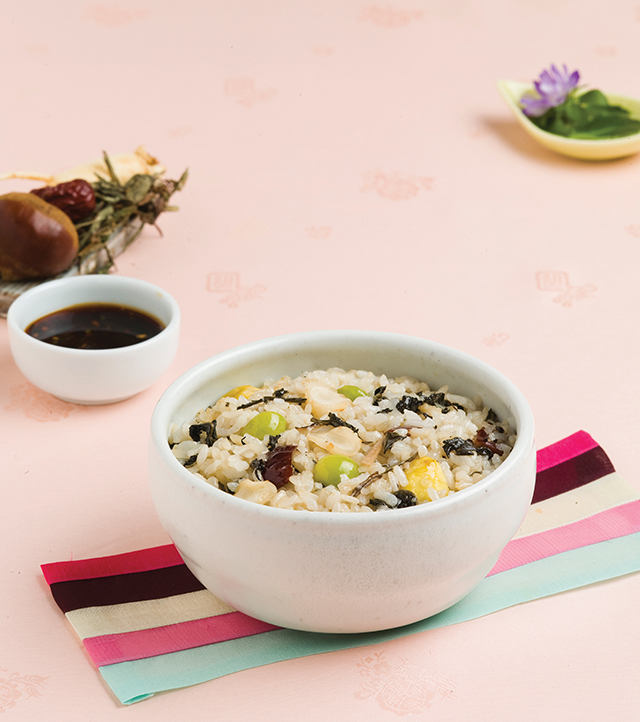 Pogongyoung Bab is a rice dish mixed with Taraxacum Herb, Ginseng, Jujube, and Chest Nut. Pogongyoung means Taraxacum Herb and it helps produce breast milk. It is good for muscle and bone.
[Ingredients & Quantity]
2 cups Nonglutinous Rice, ½ cup Glutinous Rice, 3 Cups Water
10g Pogongyoung, 1 Ginseng, 3 Jujube, 3 chest Nut, 4 Gingko, 1 Shiitake Mushroom
[Recipe]
1. Wash the Nonglutinous Rice and Glutinous Rice, Sock them into water for 30 minutes. Drain it.
2. Wash the Pogongyoung. Sock the Shiitake Mushroom into water for an hour; remove the pillar and cut it into 0.2cm thick.
3. Fan-fry the Gingko. Peel the skin
4. Chop the Ginseng after washing.
5. Quadrisect the Chest Nut and Jujube.
6. Boil the Nonglutinous Rice, Glutinous Rice, Ginseng, Jujube, Chest Nut, and Pogongyoung for 3 minutes at high temperature; and 3 minutes at medium temperature. Steam it for 10 minutes.
7. Add 4 pieces of Gingko. Turn off the heat after 2~3 minutes.
[Tips]
* You can serve with a seasoning sauce.
* You can chop the Pogongyoung.