Discover Korean Food 138: Dr. Sook-Ja Yoon's "Usel-Jok-Jorim"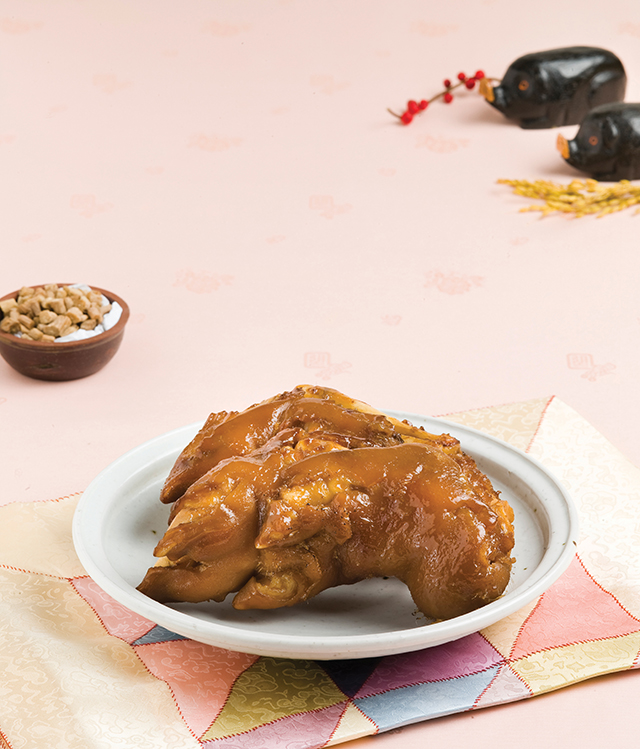 Usel-Jok-Jorim is a boiled-down dish with pig's trotters and Achyranthes. Achyranthes is good for hair turning into white. However, it is not recommended for pregnant women.
[Ingredients & Quantity]
* 2 pig's trotters, 2 tbsp soy bean paste, ½ cups refined rice wine, 3 laurel leaves, 1 tbsp black pepper powder, 12 cups water
* Achyranthes soup – 50g Achyranthes, 3 cups water, 4 tbsp soy sauce, 2 tbsp sugar, 4 tbsp refined rice wine, 12 onion, 4 chilli, 1 spring onion, 10 garlic, 20g ginger, 3 tbsp starch syrup, 1 tbsp sesame oil, ⅛ tsp pepper powder
[Recipe]
1. Wash the Achyranthes.
2. Shave the pig's trotters.Soak into cold water for 1 hour.
3. Boiled the pig's trotters with the soy bean paste, refined rice wine, laurel leaves, and pepper powder for 1 hour and 20 minutes. Take out the pig's trotters.
4. Boil the Achyranthes soup with the pig's trotters and Achyranthes for 20 minutes at medium temperature. Boil them down for 10 minutes.
5. Take out the meat and slice them.