Discover Korean Food 142: Dr. Sook-Ja Yoon's "Maejakgwa, Fried Ribbon Cookies"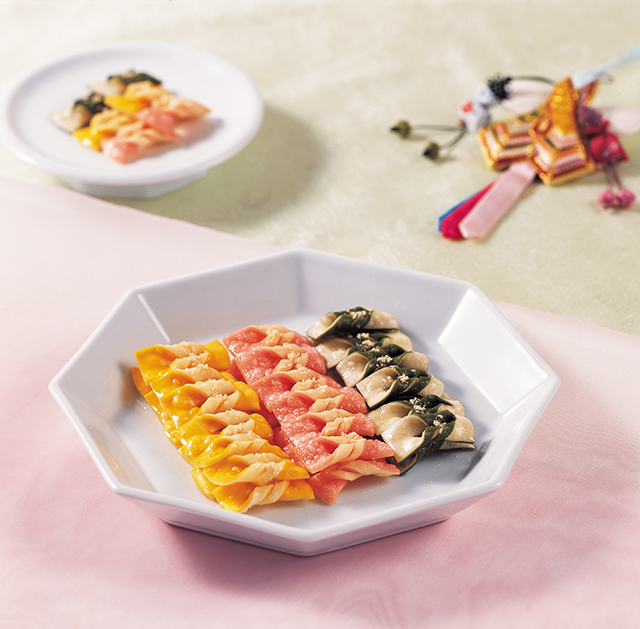 Maejakgwa is a type of cookie made by kneading wheat flour with salt and ginger juice. It is sliced thinly and slit, then flipped over after squeezing one end into the slit. The cookies are fried in oil, coated with sugar syrup, and sprinkled with pine nut and cinnamon powder. Maejakgwa gets its name from its shape which is similar to a sparrow (jak) in an apricot (maehwa) tree.
[Ingredients & Quantity]
white dough : 70 g wheat flour, 0.5 g salt, 30 g ginger juice
pink color dough : 25 g wheat flour, 0.2 g salt, 1 g (¼ tsp) strawberry powder, 15 g ginger juice
mugwort color dough : 25 g wheat flour, 0.2 g salt, 1 g (½ tsp) mugwort powder, 15g ginger juice
yellow dough : 25 g wheat flour, 0.2g salt, 2 g (gardenia 2 g, water 30 g) gardenia water, 10 g ginger juice
syrup : 80 g (½ cup) sugar, 100 g (½ cup) water
6 g (1 tbsp) pine nuts powder
[Preparation]
1. Sprinkle salt to the each wheat flour and sieve.
2. Knead white wheat flour with ginger juice and add strawberry powder, mugwort powder, and gardenia water to the remained each wheat flour respectively, mix them thoroughly individually, and knead with ginger juice.
3. Wrap the each dough with cotton cloths individually and let them sit for 20 min. (white 160 g, yellow/pink/mugwort 40 g each).
4. Roll the white dough down into 0.2 cm-thick, and divide it into 3 parts. Roll the remained 3 color doughs down into 0.2 cm-thick respectively. Stick each colored dough to the white dough together face to face, and roll it down into 0.2 cm-thick again.
5. Cut the rolled dough into 2 cm-wide and 4 cm-long, then put 3 stream line slits, insert one end into the center slit, then flip over.
[Recipe]
1. Put sugar and water in the pot, boil it on low heat for 15 min to make syrup.
2. Pour edible oil into the pan and heat it up for 5 min. on medium heat. When oil temperature comes up to 130 ℃, put the doughs in the pan and let it sit for 2 min. Fry for another 2 min. after turn over, drain oil on a strainer.
3. Then put the fried doughs into the syrup to coat with. Place cookies on a dish and sprinkle pine nuts powder.
[Tips]
·Traditional twisted cookie is white and much bigger.
·It may be called as 'Taraegwa'.
·Saturated Omija water (Omija : water = 1 : 2) may be used for pink dough.