Discover Korean Food #26: Dr. Sook-Ja Yoon's "Mung Bean Sam Gye Tang"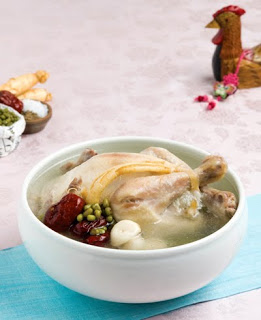 Mung bean "Sam Gye Tang" is a steamed dish of young chicken which contains Mung beans, ginseng, Milk Vetch Root and garlic stuffing.
Milk Vetch Root is good for stamina.
It helps the immune system and heart contractions.
Furthermore, it increases energy thereby reducing edema.
Ingredients
* 4 Pullets, ½ a cup of glutinous rice, ½ a cup of Mung beans, 4 Ginseng roots
* 4 Milk Vetch Roots, 15 cups of water
* 4 cloves of garlic, 4 dates
* 1 tbsp of salt, 1/8 tsp of black pepper
Recipe
1. Wash the glutinous rice and Mung beans. Leave to soak for 2 hours and drain.
2. Wash the Milk Vetch Roots. Leave to soak for 3 hours. Boil for an hour in water containing Milk Vetch Roots extract and drain.
3. Wash the Pullets after removing the innards.
4. Stuff the pullet with the glutinous rice, Mung beans, dates, ginseng and garlic. Then turn the legs inwards and bind them.
5. Place the pullet into a pot of boiling water. Leave to simmer for 50 minutes.
6. Serve with salt and pepper.