Discover Korean Food 59: Dr. Sook-Ja Yoon's "Gugiza-Hobak-Geon"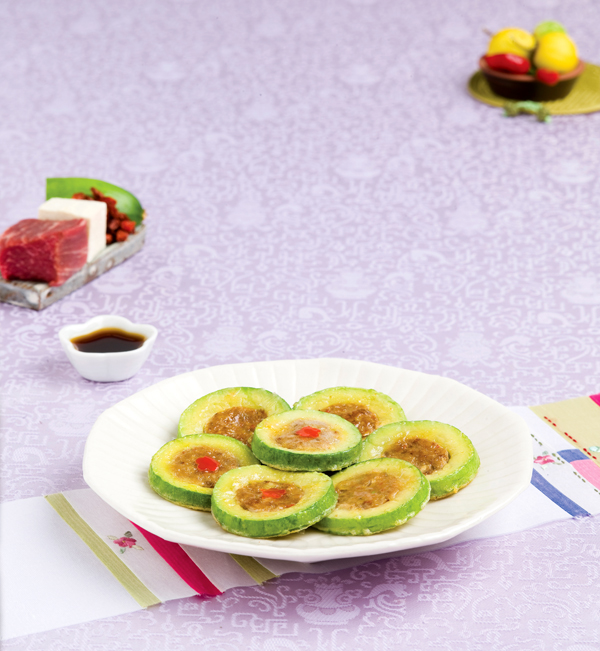 Gugiza-Hobak-Geon is a griddled Pumpkin pancake filled with beef, Lycium chinense Miller and bean curd. Lycium chinense Miller is good for the lungs, the liver, and especially good for the kidneys. It also helps keep healthy the skin and hairs. Therefore, it has been used as a Roborant in oriental medicine.
[Ingredients]
1 Pumpkin, 1tsp salt
2 Egg, 2tbsp flour, 2tbsp vegetable oil
100g minced beef, 60g bean curd, 20g Lycium chinense Miller
2tsp minced spring onion, 1tsp minced garlic, 1/8tsp salt, 1tsp sesame oil, 1/8tsp pepper powder
Seaning sauce: 1tsp soy sauce, 1tbsp vinegar, 1tbsp water
[Recipe]
1. Cut out the pumkin seeds to a the pumpkin in 0.7cm depth. Preserve the seeds with salt, for a short time, after taking out the seeds.
2. Sfter washing them, mince the Lycium chinense Miller and beef.
3. Mash the Bean curd. Hand mix with the the Lycium chinense Miller, beef and seasoning sauce.
4. Place the filling in the middle of the pumpkin. Dress the flour.
5. Panfry them after soaking into the egg.
[Tip]
* Do not put too much fillings into the pumpkin.