Discover Korean Food 57: Dr. Sook-Ja Yoon's "Dan-Hobak-Salad"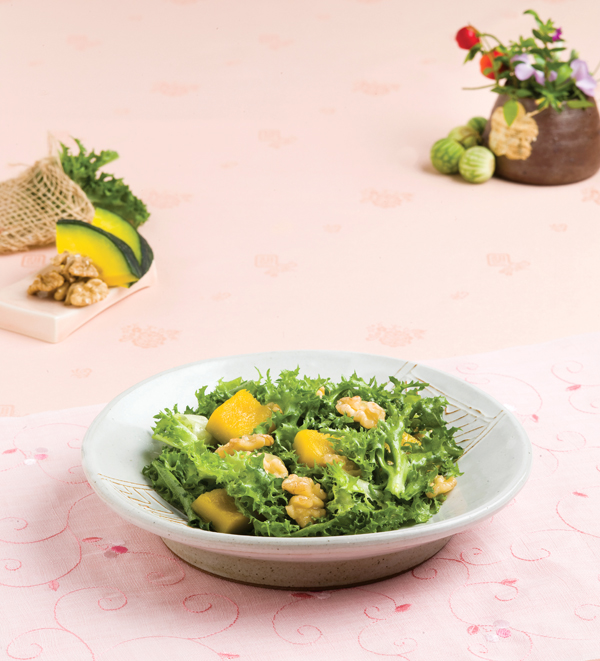 Dan-Hobak-Salad is a pumpkin dish hand-mixed with walnuts, chicory, and a sweet sauce. Sweet Pumpkin is also called "Chestnut Pumpkin" because of its sweet taste. It includes rich Mineral, Starch, Vitamin B, Vitamin B1, Vitamin B2, Vitamin C, Protein, and Omega-3. Therefore, it helps promote Children's growth.
[Ingredients]
1/3 sweet pumpkin, 1/4cup walnut
100g chicory, 1tbsp olive oil, 1/2tsp salt
Honey sauce: 2tbsp honey, 1tbsp olive oil
[Recipe]
1. Split the sweet pumpkin. Remove the inside. Cut them in 2cm width and 2.5cm length.
2. Steam them for 10 minutes.
3. Peel the walnuts after soaking in water . Fry them for 4 minutes with the vegetable oil.
4. Wash the chicory. Cut it in 6cm length. Hand-mix them with olive oil and salt.
5. Place them onto a plate. Hand-mix them with the honey sauce.
[Tip]
* Dress the sauce just before you eat.