Discover Korean Food 82: Dr. Sook-Ja Yoon's "BACKHAP-DAECHOO-TANG"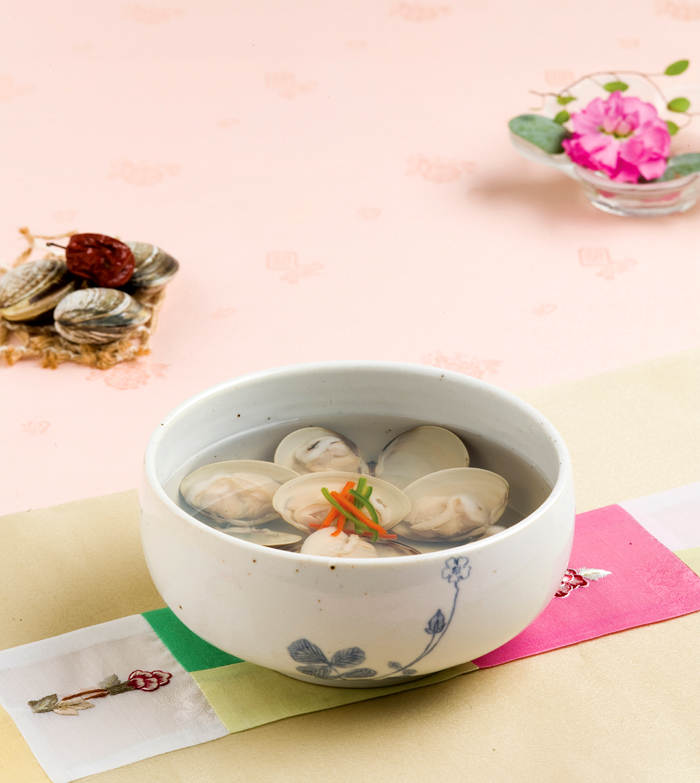 BACKHAP-DAECHOO-TANG is a soup made from boiled lily and jujube. The Lily helps reduce the body temperature and circulates the blood. It is good for the liver and bowels, a hangover, and suffering from cholelithiasis . It includes iron, calcium, nucleic acid, taurin and around 40 essential amino acids; these create protein and help to prevent ageing .
[Ingredients]
7 jujube, 7 cups water
400 g Lily, 3 cups water, 2 tsp salt
½ green chilli, ½ red chilli, 1½ tsp salt
[Recipe]
1. Wash the lily and soak into salty water for 3 hours. Wash it again.
2. Place the jujubes in a sauce pan. Boil them for half an hour at medium temperature. Strain them.
3. Wash the green chillies and red chillies. Remove the insides. Cut them into 0.3 cm in width and 3 cm in length…
4. Boil the jujube water. Put the lily into the boiling water and allow it to boil for another 5 min at medium temperature
5. When the lily opens up add the chilli and the salt. Boil the whole for 5 minutes.
[Tips]
* Do not boil the lily too long otherwise it becomes too tough.
* You may add spring onions.