Discover Korean Food 86: Dr. Sook-Ja Yoon's "Jangkimchi, Soy Sauce Kimchi"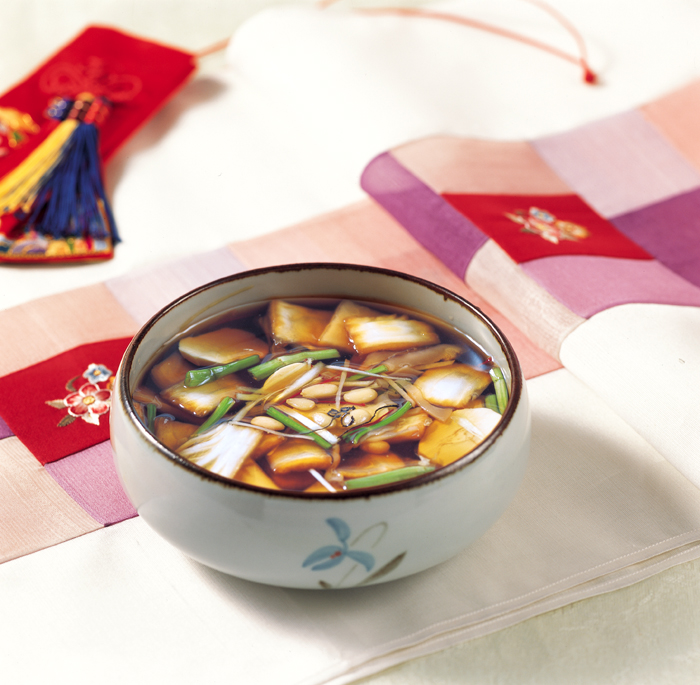 Jangkimchi is a watery Kimchi made with cabbage and Korean radish brined in soy sauce with various ingredients. Jangkimchi is a delicacy with its deep soy sauce fragrance and sweet taste. It was enjoyed in the royal court in olden days.
[Ingredients & Quantity]
200 g Korean cabbage leafstalk, 180 g radish, 90 g (5 tbsp) soy sauce
60 g (3 ea) chestnut, 60 g pear, 30 g watercress, 30 g green onion (white part)
10 g (2 sheets) brown oak mushrooms, 3 g stone mushrooms
11 g (2 tsp) minced garlic, 4 g (1 tsp) minced ginger
5 g (½ tbsp) pine nuts, 1 g shred red pepper
1 kg (5 cups) water, 6 g (½ tbsp) sugar, 16 g (1⅓ tbsp) salt
[Preparation]
1. Trim and wash the cabbage leafstalk and radish, cut them into 2.5 cm-wide, 3 cm-long and 0.5 cm-thick (cabbage 150 g, radish 160 g).
2. Add the soy sauce to the cabbage, marinate for 30 min. Add radish and marinate together for another 30 min. drain soy sauce water (120 g).
3. Trim the chestnut and slice it into 0.2 cm-thick (18 g). Trim the watercress and cut them into 3 cm-long (15 g). Trim the green onion and shred into 3 cm-long and 0.1 cm-wide (16 g). Soak mushrooms in water for 1 hour, remove stems of brown oak mushrooms, wipe with cotton cloths, then shred into 0.2 cm-wide (20 g). Cut the shred red pepper into 2 cm-long. Wash the stone mushrooms by rubbing, remove the belly buttons, roll up, and shred into 0.2 cm-wide (3 g). Peel the pear and cut into 2.5 cm-wide, 3 cm-long and 0.3 cm-thick (46 g).
4. Put the ginger and garlic into the cotton cloths bag.
5. Remove tops of the pine nuts and wipe the nuts with dry cotton cloths.
[Recipe]
1. Mix marinated cabbage and radish with chestnut, pear, watercress, green onion, mushrooms, pine nuts and shred red pepper together thoroughly, then place them into a jar.
2. Add water, sugar and salt to the half of the soy sauce water (60 g) and season. Then pour it into the jar and put the garlic and ginger bag in it.
[Tips]
* Do not blend soy sauce too dark for this Kimchi.
* Top the watercress and pine nuts just before serving.