Discover Korean Food 87: Dr. Sook-Ja Yoon's "HAEMOOL-PYOGO-BUSUT-GEON"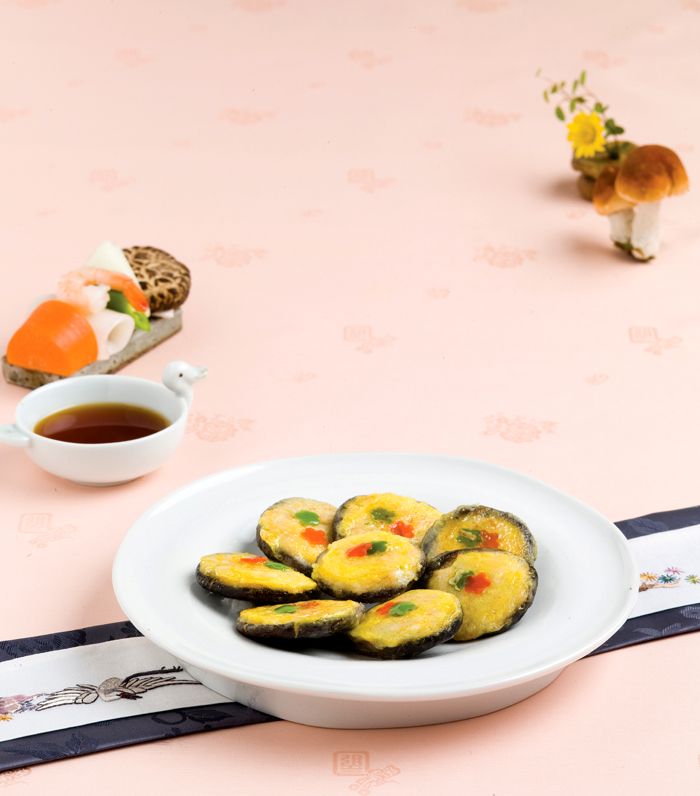 HAEMOOL-PYOGO-BUSUT-GEON is a Korean seafood pancake with shiitake mushrooms and various vegetables. It is used for diets for patients and is therefore good for the period of recovery. Shiitake mushroom is also called MAGO, they helps the immune system and reduces blood pressure and cholesterol.
[Ingredients]
10 Shiitake mushrooms, 20 g carrot, ½ onion, 1 green chilli, 30 g shrimp, 30 g squid
½ tbsp starch, 2 tbsp flour, 2 egg, 2 tbsp vegetable oil
* Seasoning: 1 tsp minced spring onion, ¼ sugar, 1 tsp sesame oil, 1/8 tsp pepper powder
* Soy sauce mixed with vinegar: 1 tbsp soy sauce, 1 tbsp vinegar, 1 tbsp water
[Recipe]
1. Soak the Shiitake mushrooms for an hour at medium temperature. Wipe them after removing the pillar.
2. Wash the carrot, green chilli and onion. Remove the inside of the green chilli. Mince the onion and carrot.
3. Wash the shrimps and squid. Remove the inside of the shrimps and peel the skin off the squid. Mince them.
4. Make a filling: mixed the minced ingredients with starch flour and seasoning sauce.
5. Apply flour inside the Shiitake mushroom. Place the filling. Dress them with flour and eggs. Fan-fry it.
[Tips]
* Blanch the Shiitake mushroom in boiling water.
* Fan-fry them at medium temperature.
* Minced them completely so as not to break them.