Discover Korean Food 88: Dr. Sook-Ja Yoon's "MACKEREL-DOENJANG-GUI"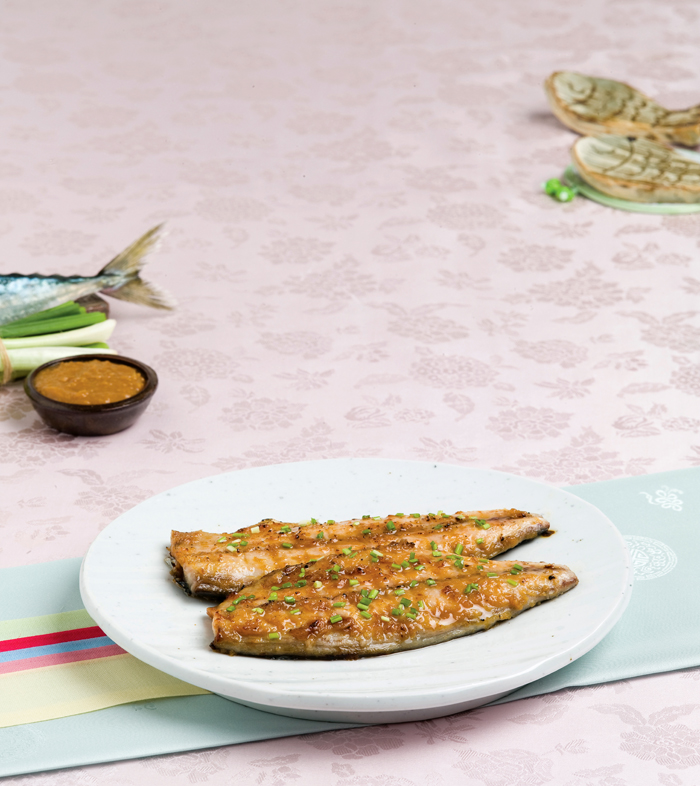 MACKEREL- DOENJANG-GUI is a mackerel dish grilled with soybean sauce. Mackerel is also called BYUK-MOON-OE, GO-DEUNG-OE or GO-DO-OE. It contains multi vitamins, DHA and EPA. Therefore it is good when suffering from severe migraine, and blastoporlepsis.
[Ingredients]
1 mackerel (medium sized), 2 spring onion
* Seasoning sauce: 1½ tbsp soybean paste, 1 tsp sugar, 1 tsp minced spring onion, 1 tsp ginger juice, 1 tsp refined rice wine, 1/8 tsp pepper powder
[Recipe]
1. Remove the sales, head, tail, fins and inside of the mackerel. Make a cut after washing.
2. Make the seasoning sauce.
3. Cut the spring onions 0.5 cm in length after washing.
4. Marinate the mackerel for an hour in 2/3 of the seasoning sauce.
5. Grill the mackerel on a gridiron after applying the vegetable oil.
6. Apply the rest of the sauce onto the mackerel. Grill it both side for 10 minutes at medium temperature.
7. Place on a plate and decorated with the spring onion.
[Tips]
* Defrost the mackerel in cold water.
* Making cuts prevents the mackerel from twisting out of shape.
* You make cut the mackerel into 5 cm long lengths.