Discover Korean Food 91: Dr. Sook-Ja Yoon's "DOOBOO-BOOCOO-GEON"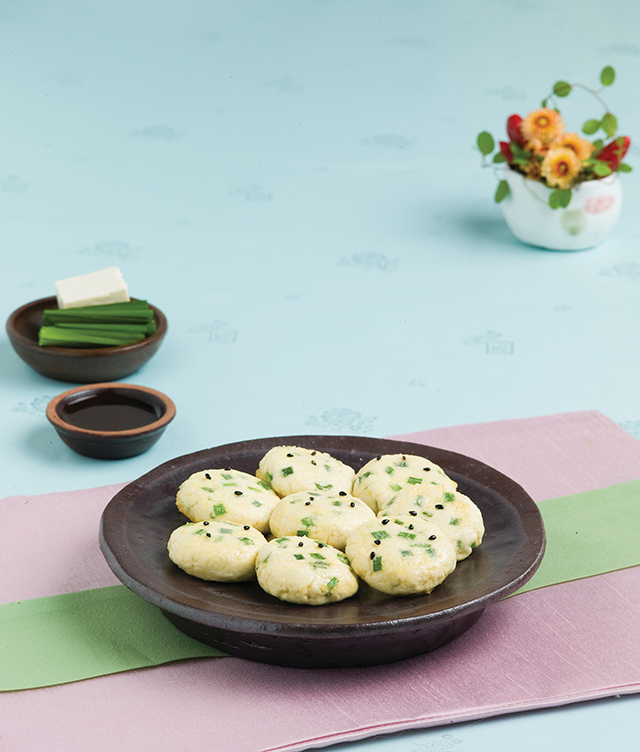 DOOBOO-BOOCOO-GEON is a Pan-fried tofu dish containing chives. The characteristic of chive is warm and the taste is bitter. It helps keep the function of the five viscera. It is especially good for breaking out in a cold sweat.
[Ingredients]
1 tofu, 20 g chive, 1 tsp minced spring onion, ½ tsp salt, ¼ tsp sugar, 1 tsp sesame oil, 1 tsp back sesame
5 tbsp flour, 1 egg
* Soy sauce mixed with vinegar: 1 tbsp soy sauce, 1 tbsp vinegar, 1 tbsp water
[Recipe]
1. Gently crush the tofu. Drain through cotton.
2. Cut the chives 0.5 cm in length. Mix them with the tofu and the sauce.
3. Apply the flour and eggs. Pan-fry them.
4. Serve with soy sauce mixed with vinegar.
[Tip]
* Red chilli can be used for garnishing.
* Rub the tofu gently not to be broken.