Discover Korean Food 93: Dr. Sook-Ja Yoon's "SOOKJIHWANG-DAKDARI-ZIM"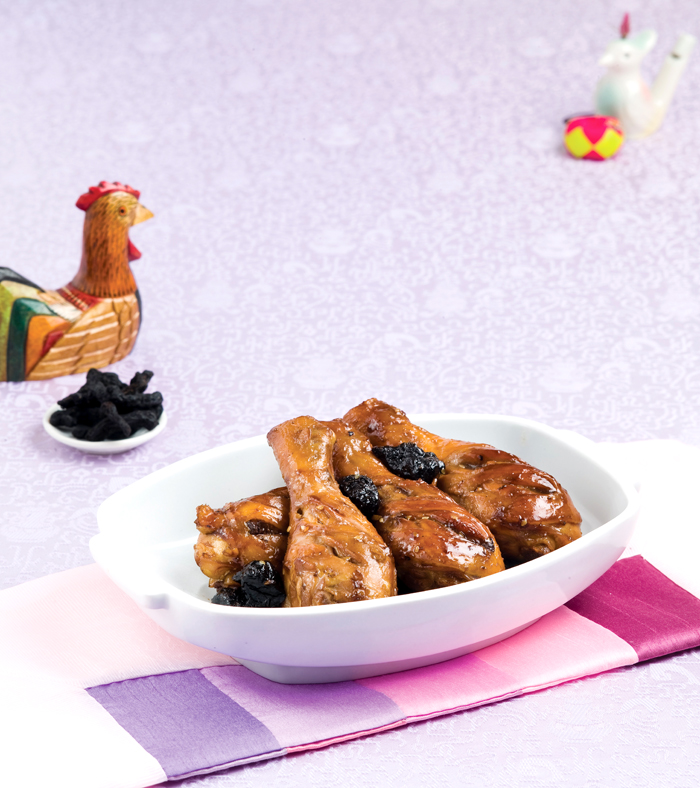 SOOKJIHWANG-DAKDARI-ZIM is a mild chicken drumstick dish with a foxglove sauce. It is good for the skin and diet. Chicken meat keeps a good appetite and the function of the digestive organs.  A foxglove is good for stamina and blood circulation.
[Ingredients]
8 chicken drumstick,  ½ tsp salt, 1/8 pepper powder, 1 tbsp refined rice wine
50 g foxglove, 1 cup water
* Seasoning sauce: 1½ soy sauce, 1 tbsp refined rice wine, 1 tbsp minced spring onion, ½ minced garlic, ½ tbsp sesame, 1 tsp ginger juice, 1 tsp sesame oil, 1 cup of foxglove water, 2 cups water
[Recipe]
1. Soak the foxglove for 10 minutes.  Strain it.
2. Make a cut into each chicken drumstick.  Marinade for 20 minutes.  Boil them 10 minutes at high temperature and 15 minutes at medium temperature. Add the foxglove and boil them down for 3 minutes.
3. Add the sesame oil.
[Tip]
* Chicken wings can be used instead of the drumsticks.