Discover Korean Food 99: Dr. Sook-Ja Yoon's "SAENG-GANG-DAN-JA"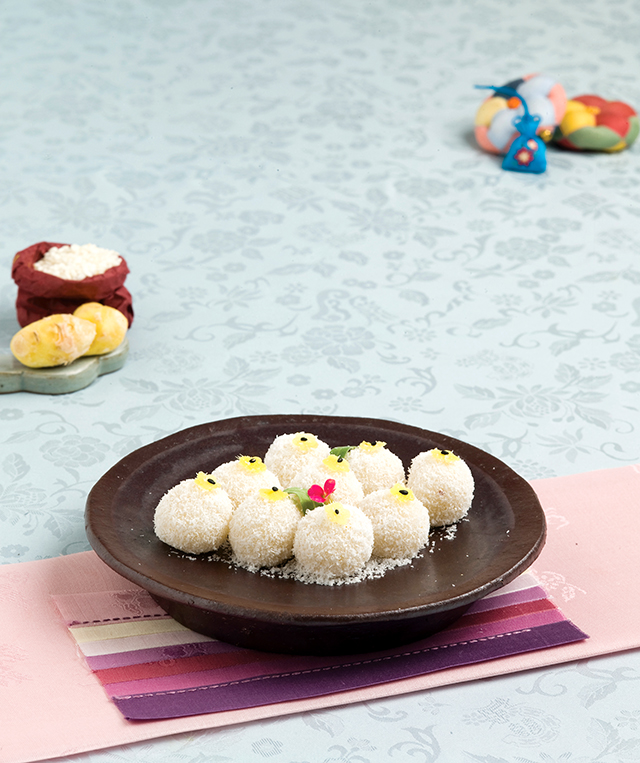 SAENG-GANG-DAN-JA is a Ginger rice cake mixed with coconut powder. Cinnamon is sweet and spicy and helps keep the body warm. It is good for menstrual pain. Ginger also keeps the body warm.
Ingredients
3 cups sticky rice powder, 1 tsp salt
30 g ginger, 2 tbsp sugar
½ cup coconut powder
* water for mixing 20 g ginger, 5 g cinnamon, 2 cups water
Recipe
1. Mix the sticky rice powder and salt. Strain them.
2. Peel the ginger and cut into 0.2 cm thickness. Boil the ginger and cinnamon for 20 minutes.
3. Mince the ginger and boil down with sugar.
4. Apply the sticky rice powder to the ginger. Mix with the ginger water. Make balls of 2 cm width.
5. Put them in hot water for 30 seconds. Cool them in cold water. Drain them and apply coconut powder.
[Tip]
* Mashed adzuki bean or bread crumbs can be used for dressing.
* You may exclude gingers.