DJ KRUSH – 20TH ANNIVERSARY TOUR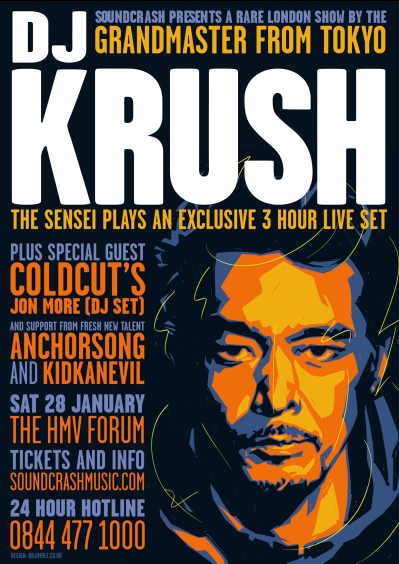 Date: 28 January 2012
Venue: The HMV Forum, 9-17 Highgate Road London NW5 1JY
Admission: £17.50
Email: info@soundcrashmusic.com
Web: www.soundcrashmusic.com
Organiser: Soundcrash Productions
The undisputed Godfather of the electronic beats scene, DJ Krush, celebrates 20 years since his first ever live gig with a very special 3 hour set sure to delight his legion of fans!
DJ Krush's importance as a music producer cannot be underestimated and without him some of the biggest artists Soundcrash puts on would simply not exist, at least in their present form. But despite his enormous influence, DJ Krush has always been a live performer at heart, honing his skills to perfection throughout the years and now capable of building layer after layer after layer of drum samples to the point where his audience have no choice but to completely lose it and immerse themselves fully in the wonderful, dark, and downright genius world of DJ Krush.
In every good beat worth its salt in the past 20 years there is a bit of DJ Krush. In the really good ones, there is a lot. And tonight, we get 3 hours straight from the source. It's time to celebrate.
To commemorate 20 years in music production DJ Krush has started a monthly single series that will run between this past September until next July. The first two singles have now been released, and the third will be available on iTunes on November 30th (and later elsewhere). Watch out for these!
Main support on the night comes from a legend in his own right making a very rare appearance to pay respect to the sensei. Pioneers in the art of remixing, founding fathers of Ninja Tune Records, as well as the creative force behind what is regarded by many as the best mix ever recorded in "Journeys By DJ", Coldcut's list of accolades goes well beyond what most artists in the filed today can only dream of. Now dj'ing only when the occasion merits it (Jon More's last London appearance was at the Ninja XX bash at Ewer Street Car Park) tonight he will play a very special set commemorating 20 years of Dj Krush.
Masaaki Yoshida, aka Anchorsong came to become a Soundcrash resident artist through personal recommendation from Dj Krush, and so it is only natural that he plays tonight. A natural rhythm fiend, Anchorsong creates lush electronic beatscapes live with the help of drum machines, looping stations, beatboxing and keyboards, building soaring tunes that will get you nodding your head at first and jumping with excitement after a while.
Representing London's vibrant beat scene is Kidkanevil, a versatile producer equally at ease making beats in his studio or playing out in clubs, giving his live sets a distinct personality as he weaves his own productions with the heaviest beats around and manipulating them to his advantage – and ours. Check out his Raymond Scott remix album free to download on his bandcamp page for some serious bass geekery, and make sure you catch his set at The Forum. This man can really work a room.