Double Method by Tokyo Rumando×Hideka Tonomura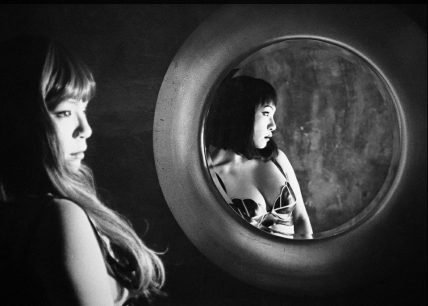 Collaborating together for the first time, Tokyo Rumando and Hideka Tonomura are at the cutting edge of an exciting and groundbreaking generation of new photographers working in Japan today. Despite using very different methodologies, these two women photographers share the same interest in mapping intense psychological subjects to deconstruct the framework that links the past to the present.
Rumando works primarily through self-portraits , and has made several series of nudes, often using an experimental method involving montage. Relentlessly turning the camera on her self-image, Rumando provokes the emergence of an unforeseen "other side" from the depths of her own inner experience, while revealing and exploring connections between her own daily life and the labyrinthine underworld of Japanese "Love Hotels".
Tonomura had committed to an unflinching account of both mundane and epic moments of her own life, exemplified by the staggering photographic record of her mother's love affair, and intimate images of her own life working as a bar hostess. Tonomura's work condenses and crystallises individual prosaic moments, often isolating them in contemplation on their implicit savagery and cruelty. Doing so, Tonomura uses her camera to capture and project an extreme and distorted vision of an uncontextualised, unhinged reality, highlighting the artist's vengeful attitude towards herself.
Using photography to confront basic and instinctive key human issues, both Rumando and Tonomura continually reverse expectations and take their audiences into complex and moving interior spaces through their emotionally engaging practices.The two photographers participate in a fictitious dream, based on a shared optimism about the potential for art to transcend the problems of daily life.
Date: 11 – 28 May 2018
Venue: Daiwa Foundation Japan House, 13/14 Cornwall Terrace, London NW1 4QP UK
Tel: 020 7486 4348 Fax: 020 7486 2914
Email: events@dajf.org.uk
Web: www.dajf.org.uk
Organiser: Daiwa Anglo-Japanese Foundation