Doubting the Undoubtable – Talk with Kouichi Okamoto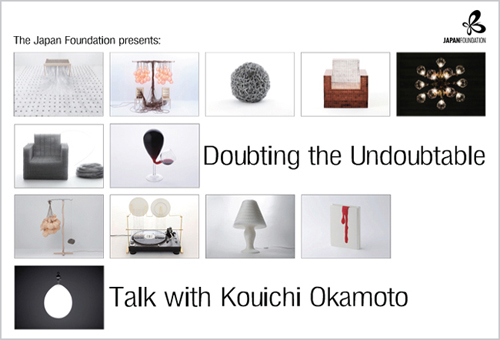 Product designer Kouichi Okamoto is considered one of the most captivating Japanese design talents working today. Establishing his product design company Kyouei Design in 2006, Okamoto's designs have been featured in design festivals around the world and are available in over 30 countries in design shops, stores and museums. Always retaining a desire to mix materials which most designers would avoid, Okamoto doubts the undoubtable with a child-like playful imagination by linking otherwise unrelated everyday objects, and magically turning them into his own distinct products. Okamoto's works also reflect his multidisciplinary talent and often demonstrate his roots as a sound producer; an expansion which led him to create the installation 'Musical Table' which will be presented at this year's London Design Festival at the V&A*.
Illustrating his much-admired products, Okamoto will talk about the ideas and ethos behind them and demonstrate how his career has developed to its current state. For an informal discussion to follow, Okamoto will be joined by Max Fraser, Editor of the London Design Guide, who, through his familiarity and experience with Japanese design, will discuss the challenge Okamoto faces when he constantly evolves his creation, and explore the potential a designer or creator holds in creating products beyond their realm. Assessing the current climate in Japan and the UK, they will also touch upon the creative environment in each country and what elements are expected of a successful product designer.
Date: 24 September 2012 from 6.30pm
Venue: The Japan Foundation, London