'Drink In The Desert' and Live Shows by Hugh Keice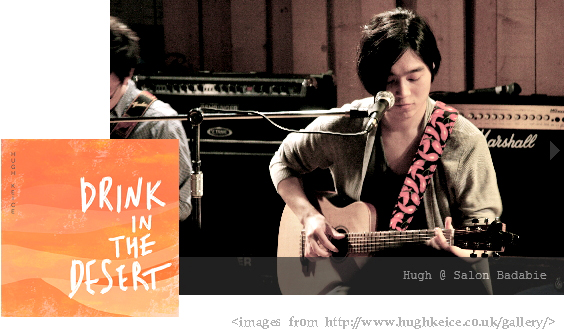 Hugh Keice, UK based singer-song writer and the winner of numerous awards including UK Songwriting Contest 2011 Semi Final (Pop Category), Cyworld Music Award, Emergenza Festival Final will release his new EP on 30 April 2012.
This EP, the culmination of all musical endeavours of Hugh and co-producer, Postino will present perfectly crafted songs and real emotion.
After returning from hugely successful tour of South Korea, Hugh will be playing at the following live shows around the UK.
Date: 11 May 2012
Venue: Clapham Grand, Brixton, London
Tickets: £8.00 (Admission Fee) / BOOK HERE
Date: 17 May 2012
Venue: Bumper, Liverpool Sound City Festival
Tickets: BOOK HERE
Date: 19 May 2012
Venue: Chavasse Park Stage, Liverpool Sound City Festival
Tickets: BOOK HERE
Date: 8 July 2012
Venue: The Relentless Garage, Emergenza Festival Finalist Showcase
Please visit Hugh Keice's Official Website for further details:
http://www.hughkeice.co.uk/