Encounter Fine Art-Sung Feel Yun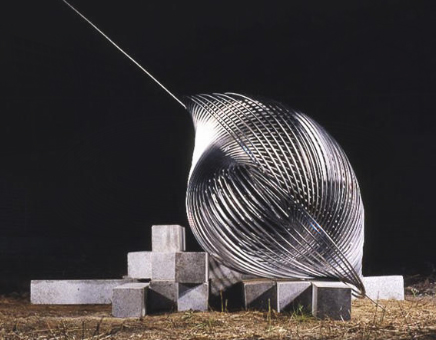 Encounter Fine Art is delighted to announce a showcase exhibition of the critically acclaimed Korean artist Sung Feel Yun at Sketch, Mayfair. The exhibition marks the engaging meeting of an internationally renowned contemporary venue with an equally inspiring practitioner. Sung Feel Yun's installation series, Looking at the Real World from Within the Real World, signifies a complex meditation on the cosmos, the rhythms of the universe and our relation to them.
'My work is about the nature of existence, as explored and explained by Eastern philosophies and the theories of universal physics. The vast expanse of the solar system and the micro world of atoms have something in common; both worlds rotate around the same axis.' – Sung Feel Yun 
Sung Feel Yun utilises the intense power of simplicity to convey monumental concepts. His magnet powered, sensor activated, steel installations paradoxically invite the participation of the viewer, yet resist explanation. With a toss of steel filings the sculptures vivid surface is activated. This enigmatic fusion of minimalist sensibility and automatist motion creates unique works of great potency.
Sung Feel Yung's work has received extensive recognition internationally, including multiple solo shows and a prestigious award from the Korean National Museum of Contemporary Art. Complimenting Encounter Fine Art's exhibition Sung Feel Yun's work will be featured in a series of Art14 lectures hosted by Sketch throughout February and March.
Sung Feel Yun Showcase: 11th January – 12th April