Evening reception with Sir David Warren, Former British Ambassador to Japan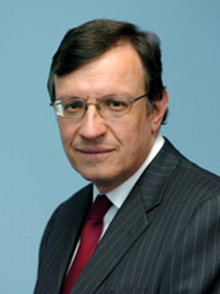 David Warren joined the Foreign and Commonwealth Office in 1975, and has spent much of his career dealing with Japanese and East Asian affairs, in both Tokyo and London.
Following two years' full-time Japanese language study, he served in the British Embassy in Tokyo, as Private Secretary to the Ambassador and then Second (later First) Secretary, Economic from 1978 to 1981, and as Commercial Counsellor from 1993 to 1998, before returning to Tokyo as Ambassador in July 2008.
His other posts in the Foreign and Commonwealth Office have included periods in the European Community Department, dealing with international trade policy, from 1983 to 1986; serving as head of the Political Section in the British High Commission in Nairobi, Kenya, from 1987 to 1990; two years as Deputy Head of the FCO's Far Eastern Department from 1990 to 1991; a period on secondment to the Office of Science and Technology, dealing among other issues with UK/Japan science and technology co-operation, and two years as Head of the FCO's China Hong Kong Department from 1998 to 2000.
In 2000, he became one of the senior management team for the government trade promotion organisation, UK Trade and Investment; and from 2004 to 2007, he was Director, Human Resources, at the FCO, and a member of the FCO Board of Management.
This event is free but booking is essential.
Date: 29 January 2013
Venue: Asia House, 63 New Cavendish Street, London W1G 7LP
Tel: 020 7307 5437
Email: vladka.paligova@asiahouse.co.uk
Web: http://asiahouse.org/exhibitions-and-events/detail?id=235
Organiser: The Daiwa Anglo-Japanese Foundation