Experience Japan Exhibition: An introduction to study abroad and other opportunities in Japan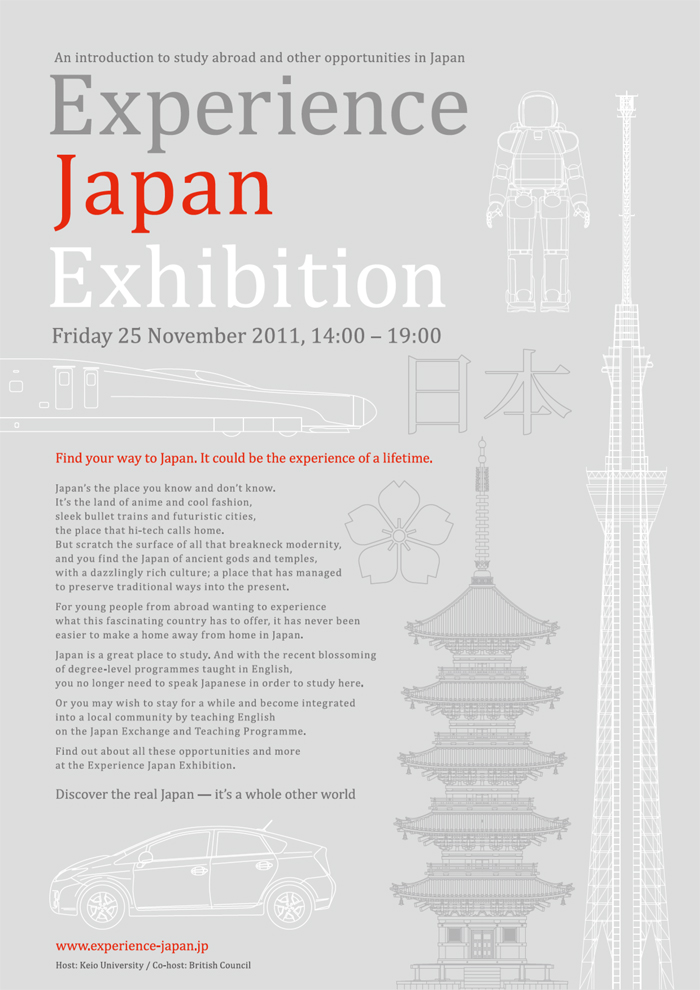 Date:  25 November 2011
Venue:  The Royal Society, Wellcome Trust Lecture Hall, The Royal Society, 6-9 Carlton House Terrace, London , SW1Y 5AG
E-mail: contact@experience-japan.jp
Web:  http://www.experience-japan.jp
Host:  Keio University, Co-Host: British Council
The Experience Japan Exhibition is the first-ever event of its kind. It will provide information about the various exciting opportunities which allow you to experience studying and working in Japan.
The growing number of English-language degree programmes at Japan's universities offers you the chance to advance your knowledge in this fascinating country, whatever your level of study. 17 leading Japanese universities will be attending the event to provide information on these programmes, as well as on the summer courses and other options open to international students.
There will also be a chance to find out about the variety of scholarships and research funding available to enable you to take advantage of these learning opportunities.
The event will introduce other programmes which allow you to experience Japan, such as the Japan Exchange and Teaching (JET) Programme. Now in its 25th year, the JET Programme is one of the largest language-exchange programmes in the world. There are currently over 4,000 young people from different countries employed on the programme, working mainly as assistant language teachers throughout Japan.
The seminar line-up offers participants the chance to hear directly from people with experience of studying and working in Japan. There will also be a session by a leading academic on the regeneration of Japan as well as a guide to Japanese pop culture.
So come along and find your way to Japan – it could be the experience of a lifetime.
Admission is free. Advanced booking are not compulsory, however if you pre-register for the event from the following webpage, you will receive a unique Japanese gift on the day of the Exhibition.
http://www.experience-japan.jp/registration.html