Family Cookery Day – Make a Hallowe'en Bento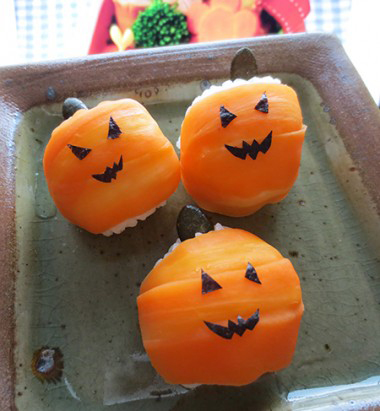 Priority given to members bringing children. One adult to every two children. Children will be the active participants with accompanying adults taking an assisting role. Please note that places are limited for what will be a popular event, so early booking is recommended.
The Japan Society is delighted to team up with Clearspring and sushi art chef Satomi Mizuno-Lewis for this special workshop to make Hallowe'en themed bento boxes.
Using Clearspring's brand new Creative Kitchen, children will each make their own healthy bento filled with ghosts, pumpkin faces and black cats using fresh organic vegetables and organic ingredients taken from the extensive Clearspring range. They will make temari sushi, create character faces, and pipe designs to produce an attractively presented bento comprising a variety of colourful ingredients combining flavours and different textures.
Your children will be able to take their bento boxes home with them. Alternatively, there will be time after the morning workshop (until 1pm) for those who wish to stay and eat their bento for lunch together with other participants.
The dishes made in this workshop are vegetarian (including egg); please notify us when booking if your children have any allergies or other dietary requirements. Please bring your own apron.
Date: Saturday 8 October 2016 (10.00am to 12 noon, 2.00pm to 4.00pm)
Venue: Clearspring, 19A Acton Park Estate, London W3 7QE