Film Screening: Alliance by Kounosuke Kawakami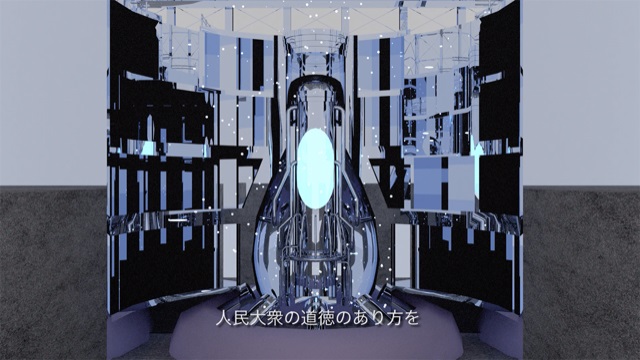 Protagonists in Kounosuke Kawakami's film work explore the tensions around ideas of counter-hegemony. Born in 1979 in Japan and studying in the UK for his higher education, Kawakami re-investigates the ideologies which have dominated both nations' cultures in the past and their histories of imperialism, post-colonialism, and neoliberalism.
For the first part of his career Kawakami painted ruins, exploring the symbols of authority, until an eye operation in 2013 led to a change of medium. Since then, he has created film installations – from iconic spaces to historical accounts, from collage to the layers of time featuring the human dramas in those places which had staged them in the past. His practice reminds us that desire and despair, hopes and disbelief, and promise and reality are not separate but intertwined back-to-back.
In this screening, he showcases the three most recent films that highlight the duality of the qualities in our humanity, the paradox of political promises, and how the projections of past futures can be reviewed today. Voice (2018) and ALARA (2019) feature international workers in Japan. The former focuses on the normalisation of otherness, whilst in ALARA, the elimination and inclusion gestures emerge through the oral history of a worker in post-nuclear disaster Fukushima. The actual interview is accompanied with extract texts from Gramsci, Negri and Hardt, and a combination of realistic animation and actual images. In Chimera (2019), an archived conversation by the founder of Manchuria was re-enacted by the children of the fourth generation of the orphans once abundant in China. The background landscape shows the origins and destinations of the repatriated to contrast with their previously unassailable beliefs.
Date: 3 March 2020, 6:00 – 7:00pm
Venue: 13/14 Cornwall Terrace, Outer Circle, London NW1 4QP