Films at the Embassy of Japan: Three for the Road やじきた道中てれすこ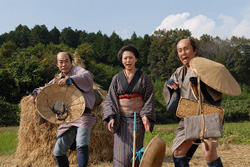 In a story set in the Edo period, Yaji lives alone in a ramshackle house, eking out a living sculpting fancy pastries. He is in love with Okino, a popular local courtesan who he feels is beyond his reach. However, to rouse him to action she urges him to help her escape from the pleasure quarters on the pretext that she wishes to see her dying father one last time. Yaji agrees willingly. At that moment a man appears outside the window, trying to hang himself. It is Kita, Yaji's childhood friend, and they are thus reunited in unexpected circumstances. Kita pesters Yaji to let him join them on their impending journey as it seems the perfect way out of his predicament. So the three of them take to the road….
Free admission. Prior registration essential.
Date: 20 May 2015, 6.30pm
Venue: The Embassy of Japan in the UK, 101 – 104 Piccadilly, London W1J 7JT
Web: http://www.uk.emb-japan.go.jp/en/event/films/films_booking.html
Organiser: The Embassy of Japan in the UK