'Fukushima- A Silent Prayer of Poetry' open rehearsal in London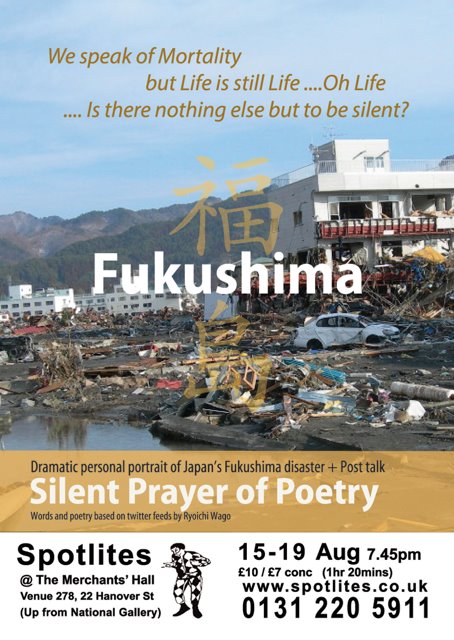 INVITATION TO FUKUSHIMA- SILENT PRAYER OF POETRY OPEN REHEARSAL
DATE/TIME: THURSDAY 9TH AUGUST 4PM
VENUE: University of London SOAS main building ROOM G3
http://www.soas.ac.uk/visitors/location/maps/
" Radiation falls, The night is silent."
'Fukushima- A Silent Prayer of Poetry' Based on Twitter feeds following the 2011 Tsunami, by poet Ryoichi Wago.
This year, the new theatre group made up of UK and Japanese volunteers is travelling to Edinburgh Festival Fringe for a unique and dramatic production to raise funds and awareness for the victims of the Fukushima Nuclear Disaster as a consequence of the March 11th 2011 Tohoku Earthquake and Tsunami.
The production is based on the poetry of Japanese teacher Ryoichi Wago, who began writing verses about his experiences in the aftermath of the destruction and chaos in Fukushima, using Twitter to share his emotions with a wider audience.
The English translated 'Fukushima- A Silent Prayer of Poetry' promises to offer a unique and deeply personal insight into the Fukushima disaster, with a blend of traditional Japanese music instruments and visual images to create a powerful theatrical experience.
We are inviting press and supporters to Open Rehearsal at SOAS prior to the Edinburgh Fringe at Spotlites at The Merchants' Hall from 15th-19th August.
We would be delightful if you would join us on 9th, please RSVP via email: readingtheatre11@gmail.com by 7th August.
Guests are encouraged to make a donation to the production if they attend this free showing, this will help go towards the costs of the theatre project, such as travel for the volunteers.
Hope you can join us there!