Game Play:- A Talk by Hirokazu Yasuhara (Sonic the Hedgehog Game-Designer)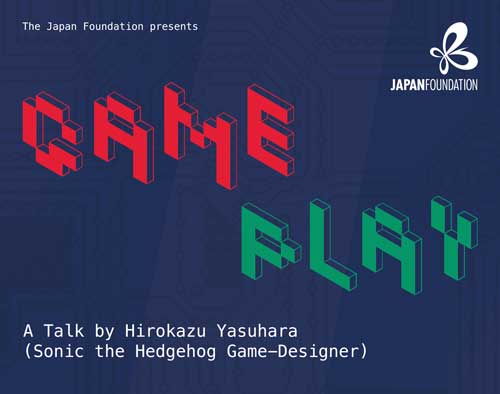 The Japan Foundation is delighted to invite influential and pioneering videogame designer Hirokazu Yasuhara, best known for his work on the Sonic the Hedgehog game series. Working as Chief Level Designer and playing a key role in developing the seminal videogame featuring a popular anthropomorphic blue hedgehog named Sonic, Yasuhara went on to work on a number of Sonic's sequels and many more well-known projects, including the Jak and Daxter series and Unchartered: Drake's Fortune for the company Naughty Dog and more recently Pac-Man Party and Mario and Donkey Kong: Minis on the Move for Nintendo.
In this illustrative talk, Yasuhara will introduce his career in the game industry from his work at Sega in the late 1990s to today, revealing some of the key elements of the projects he has been involved in. Observing many developments in technology and shifts in the industry over his established career, Yasuhara will also talk about his fundamental and perpetual concept in creating games which can be fun and engaging for anybody.
Date: 18 January 2018 from 6.40pm
Venue: London College of Communication (Lecture Room B), London, SE1 6SB