Glastonbury Festival: Sultan of the Disco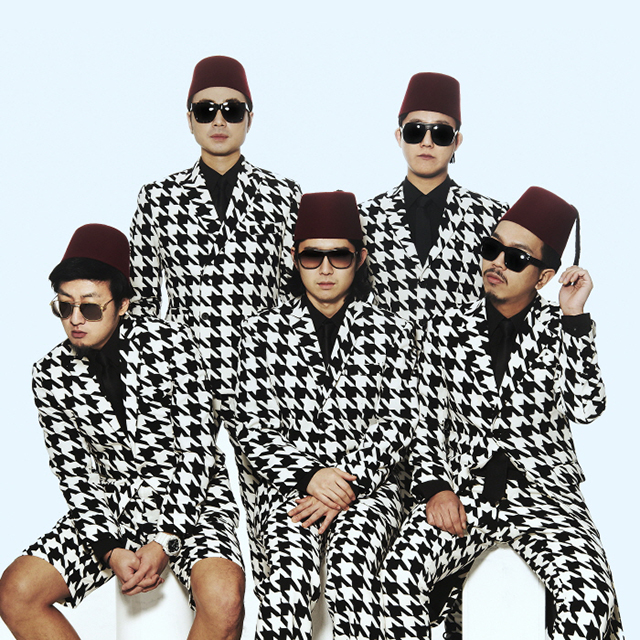 Sultan of the Disco is a soul/funk/disco band from Seoul, South Korea. Members include Nahzam Sue(lead vocals), J.J Hassan(dance, performance), Ganji Kim(drums), G(bass), and Hong-ki(guitar). In 2007, the band was formed and named after the song of Dire Straits "Sultan of Swing'. It's Nahzam's ability to inherit the vintage disco sound directly from the 60s~70s soul and funk masters like "Kool and the Gang", while sexy, unique and perfectly synchronised group dancing is purely Hassan who has spent more than enough years on the dance floor. Through the exotic costume that befits the name 'Sultan', the band combines musical seriousness and entertainment altogether.
In the very first full-length album 《The Golden Age》 which was released in February of 2013, Sultan of The Disco showed off their uniqueness like no other. This album obviously showed its remarkable nature even from the album cover which successfully portrayed the sentiments of 80s B-movies. Following the release, it was also immediately selected as the album of the week in the biggest portal site in Korea, Naver and garnered a great public response. Sultan of the Disco has been showing off their distinctive stage combined with dance and live performance through the most of the top Korean festivals. Now they are definitely beloved of all Korean music fans achieving a reputation like "Whoever watches Sultan's performance can't help dancing with those attractive guys".
SET1
STAGE: RABBIT HOLE
DATE: 28th June, SATURDAY 00:15 – 01:15
SET2
LA PUSSY PARLURE NOUVEAU
DATE: 29th June, SUNDAY 01:00 – 02:00