Grass Poets: Japanese Baskets, 1845-1953 – with Joe Earle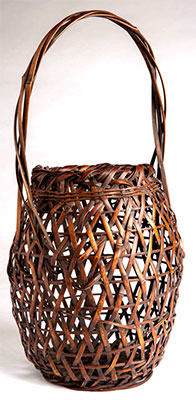 For thousands of years, Japanese farmers and artisans have plaited tropical woody grasses of the bamboo family into practical containers, but it is surprising to discover that basketry as a self-conscious art form is little more than 150 years old.
Based on the recent research and knowledge gained through cataloguing a major European collection, this lecture will explore Japanese bamboo art's origins in sencha, a supposedly Chinese manner of tea-drinking with Chinese-style utensils that became popular during the eighteenth and nineteenth centuries.
Joe Earle will illustrate his talk with a wealth of previously unpublished works from two of Japan's greatest bamboo dynasties, the Hayakawa Shōkosai line in Kansai and the Iizuka line in Kanto. Hayakawa Shōkosai I (1815–1897), the first basket-weaver to sign his work, started by making almost direct copies of Chinese baskets but gradually developed a distinctively Japanese idiom.
His younger son, the little-known Hayakawa Shōkosai III (1864–1922), played a critical role in broadening the expressive potential of bamboo, in particular through his use of the ara-ami ('rough weaving') technique. His innovations helped pave the way for the extraordinary and varied achievements of Iizuka Rōkansai (1890–1958), widely regarded as the greatest of all bamboo artists.
Date: Monday 15 January 2018 6:45pm
Venue: The Swedenborg Society, 20-21 Bloomsbury Way, London WC1A 2TH