HADA Contemporary: Interactive Perception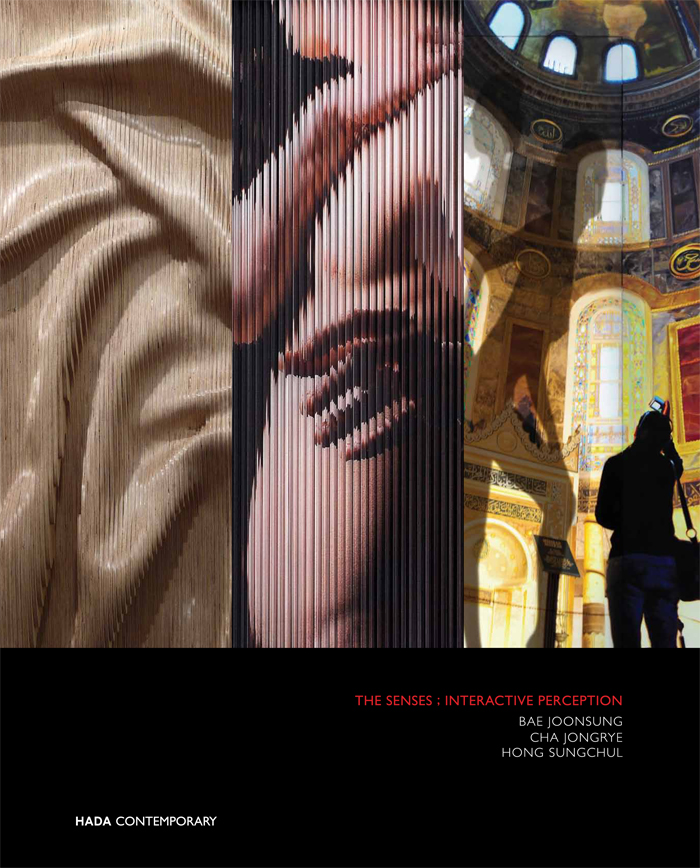 Date: 07 Oct – 29 Oct 2011
Venue: ALBERMARLE Gallery, 49 Albermarle Street, London W1S 4JR UK
Organiser: HADA Contemporary
Although at first they may seem very different, the three ar tists included in the present exhibition share in their works a common denominator. Bae Joonsung, Hong Sungchul and Cha Jongrye have developed distinctive ar tistic languages, which encourage a dynamic experience from the viewer.
Developing concepts touched by both Optical and Kinetic Art, this young generation of Korean ar tists creates socially engaged works that in their own unique way bridge the gap between Western and Eastern figuration.
The artists' aim is to understand how the viewers perceive, remember and interact with their creations, to explore the internal mental processes that originate when these artworks are enjoyed. In this sense, using a term borrowed from psychology, one could venture to define this as "Cognitive Art". The artworks need to be felt besides being watched and observed therefore establishing a fruitful interaction between the senses and the materials. One has to enter into a physical communication with the objects on display. This is even more evident in the previous series of works by Bae Joonsung, where the artist, instead of using the device of the lenticular lens, painted directly onto transparent acrylic plastic films, which, laid on the photograph's surface, were
meant to be drawn aside by the viewer in order to completely reveal the underlying composition.
Contrary to Kinetic Art, which depends on the motion of its elements for its effects, these works – which are clearly static – depend on the movement of the observer. They have to be viewed from different angles, to be walked around in order to be fully appreciated. One has to move, change position and perspective to reveal the Asian female nudes lurking under Bae Joonsung's lenticular lenses or to see the 3-D images printed on Hong Sungchul's strings.
Cha Jongrye's compositions on the other hand, though motionless because of their medium – i.e. carved wood – have nonetheless a strong dynamic character. The swirling shapes protruding from the background resemble the movements of fluid lava or the natural shapes of limestone stalactites and stalagmites. Moreover Cha Jongrye's modular compositions, made of geometric grids and organic forms, stimulate a new spatial awareness in the viewer, who gets almost sucked into the carved panels.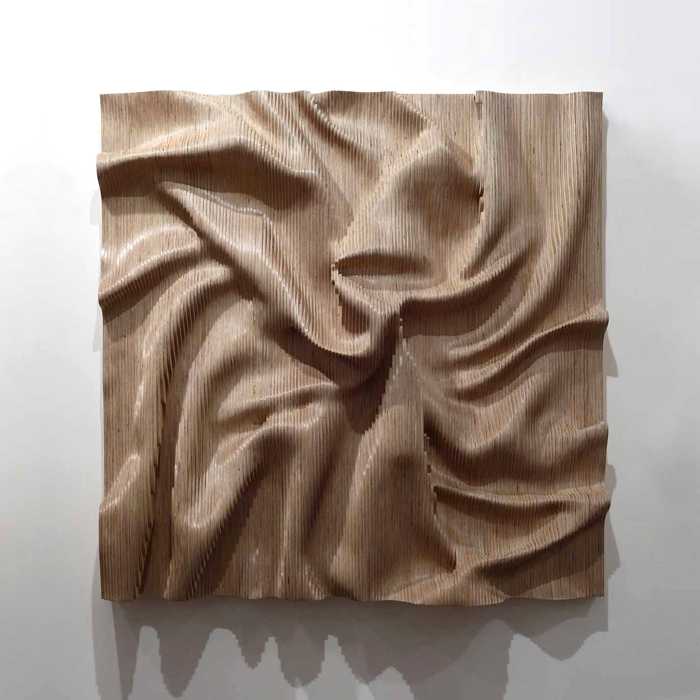 CHA JONGRYE ( b.1968)
Cha focuses on the dialectical relationship between wood and land, material and nature on the surface of her sculptures.
There is a sense of poise and connectedness within the allotted spaces of these forms. Each component of the whole is masterfully carved to create part of a larger modular work reminiscent of an elaborate puzzle or topographical contour map. The relationship between each convoluted shape offers a poetic and strangely surreal vision of space and energy giving a conceptual clarity, which properly situates her within the context of environmentalism.
Born in 1968, Cha Jongrye completed an M.F.A and B.F.A in sculpture at Ewha University.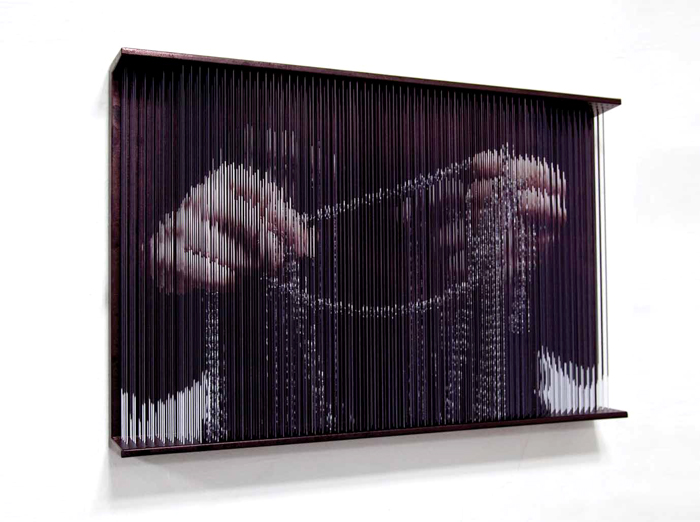 HONG SUNGCHUL ( b.1969)
Hong Sung Chul, using various media and modern technology, prompts interaction and performance from his viewers. Communicating the deep desire for human contact within society, his works never fully reveal themselves initially and exude a ghostly quality whereby the visual sense is questioned. The viewer must abandon reliance on their eyes alone and use their bodies and voices to prompt cooperation with the work. Stripping away the isolating experience traditionally encountered within art galleries, Hong initiates a dialogue with and
between viewers, instilling the sense of community prised in Korean culture.
Hong's current body of work revives his string concept – a visual representation of what ties humans together from the earliest stage of life – the umbilical chord. These strings, upon which an image is pr inted, are staggered in his w orks and inter lace to reveal a final representation – one of support or loneliness.
Born in 1969, Hong Sungchul completed an M.F.A and B.F.A in sculpture at Hongik Univ ersity in Seoul before finishing another M.F.A in Integrated Media at California Institute of the Arts.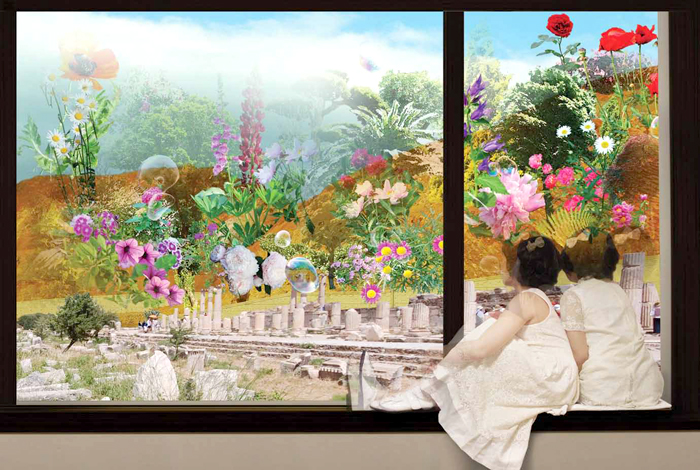 BAE JOONSUNG ( b.1967)
The series 'The Costume of the Painter' was his iconic work, in which he painted on to tr ansparent acr ylic films. These films need to flip up and down, through manual interaction by the viewer, to reveal Asian female nudes underneath the painted film. He appropriates old master paintings and contextualises the original impression and his pastiche. Since 2006, the introduction of lenticular lens in his work made this viewing experience effortless. The most recent series of paintings are titled 'The Museum' and Bae Joonsung has emphasized the theme of relativity; the viewer and being viewed by placing his work in the multi-perspective environment of Museums.
Born in 1967, Bae completed an M.F.A and B.F.A in sculpture at Seoul National University.