Hard Times in the Hometown: A History of Community Survival in Modern Japan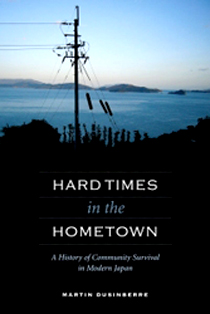 Hard Times in the Hometown tells the story of Kaminoseki, a small town on Japan's Inland Sea. Once one of the most prosperous ports in the country, Kaminoseki fell into profound economic decline following Japan's reengagement with the West in the late-nineteenth century. Using a recently discovered archive and oral histories collected during his years of research in Kaminoseki, Martin Dusinberre reconstructs the lives of households and townspeople as they tried to make sense of their changing place in the world. In challenging the familiar story of modern Japanese growth, Dusinberre provides important new insights into how ordinary people shaped the development of the modern state.
Chapters describe the role of local revolutionaries in the Meiji Restoration of 1868, the ways townspeople grasped opportunities to work overseas in the late nineteenth century, and the impact this pan-Pacific diaspora community had on Kaminoseki during the pre-war decades. These histories amplify Dusinberre's analysis of post-war rural decline – a phenomenon found not only in Japan but throughout the industrialized Western world. His account comes to a climax when, in the 1980s, the town's councillors request the construction of a nuclear power station, unleashing a storm of protests from within the community. This ongoing nuclear dispute has particular resonance in the wake of the 2011 Fukushima crisis.
Hard Times in the Hometown gives voice to personal histories otherwise lost in abandoned archives. By bringing to life the everyday landscape of Kaminoseki, this work offers readers a compelling story through which to better understand not only nineteenth- and twentieth-century Japan but also modern transformations more generally.
* The book will be available on the day at the discounted price of £40.
Date: 10 May 2012, 6:00pm
Venue: Daiwa Foundation Japan House, 13/14 Cornwall Terrace, Outer Circle, London NW1 4QP
Tel: 020 7486 4348
Email: office@dajf.org.uk
Web: http://www.dajf.org.uk/event/hard-times-in-the-hometown-a-history-of-community-survival-in-modern-japan
Organiser: The Daiwa Anglo-Japanese Foundation