Haruki Murakami and I- A Talk by Hideo Furukawa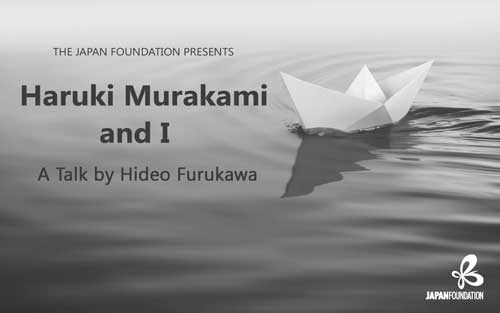 The Japan Foundation is delighted to welcome Hideo Furukawa, a dynamic and compelling Japanese contemporary writer. Furukawa is an admirer of Haruki Murakami and is acknowledged by many in the Japanese literary world as the successor to the literature giant's legacy, but due to his eagerness to experiment and the diversity in his works he is regarded as an influential writer in his own right.
He is best known for his novella Slow Boat to China (Chugoku yuki no suro boto) (2006), which is a homage to Murakami; The Arabian Nightbreeds (Arabia no yoru no shuzoku)(2001) a story which takes place in 13th century Egypt and won the Mystery Writers of Japan Award and the Japan SF Grand Prize in 2002; Love (2005) a tale of youth which won the Yukio Mishima Award in 2006; and The Book of 300 Treacherous Women (Onna-tachi sanbyaku-nin no uragiri no sho) (2015) based on the classic Tale of Genji, for which he received the Noma Prize for New Writers and the Yomiuri Literature Prize in 2015.
In this special talk, Furukawa will discuss how influential Haruki Murakami is in the Japanese literary world, particularly through the 21st Century scope. He will also explain his own style of writing, how Haruki Murakami has influenced his work, and his view on the contemporary Japanese literary world.
Date: 28 February 2018 from 6.30pm
Venue: Kings Place, St. Pancras Room, 90 York Way, London, N1 9AG