Hiroko Imada Solo Exhibition, Nature and Dance/Movement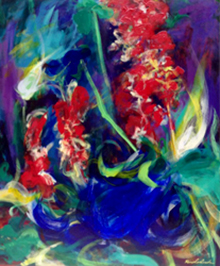 Japanese artist Hiroko Imada is a graduate of the Slade, and has been living and working in London for over 20 years. She is a member of Palace Wharf Studios, and has drawn much artistic stimulation from its prime riverside location.
In this show she presents works inspired by her two primary passions – Nature and Dance/Movement – and which explore them using various two dimensional techniques. She likes to use a variety of media, such as painting, printmaking, and installation, and to find the primary characteristic of each. Her vivid and powerful use of colour, and her strong brush strokes, express the movement, energy and life of her chosen subjects.
Hiroko takes classical ballet classes in her free time, and the Dance/Movement series expresses her love and admiration of dance.
She has recently developed an innovative technique in printmaking – lithography on plywood – and this is the first time her works using this method will be on show to the public. This technique is a combination of lithography and woodcut, but without the use of a metal plate. Instead, the plywood is processed as a lithographic plate and then the woodcut image is carved onto the same space. Thus both an oil base and water base can be applied to the plywood at the same time.
This exhibition is an opportunity to see not only her dynamic paintings, but also these rare print works.
Date: 16 March – 7 April 2013, 10am – 10pm, daily
Venue: The Riverside Studios, Crisp Road, London, W6 9RL
E-mail: gallery@RiversideStudios.co.uk
Tel: 020 8237 1111
Web: http://www.riversidestudios.co.uk
Organiser: The Riverside Studios
This exhibition is a part of Japan400 event.