HYPER JAPAN Christmas Market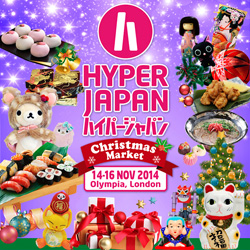 Bringing together diverse exhibitors, sellers, performers and fans, HYPER JAPAN Christmas Market will show off the best of both traditional and contemporary Japan in the heart of London. Visitors will be able to experience diverse elements of Japan's culture in a single venue, and HYPER JAPAN Christmas Market particularly focuses on gift ideas and exclusive goods with a Japanese theme to them, timed just right for one's seasonal shopping. Some highlights:
HYPER JAPAN Christmas Market is a unique event that offers something for both the dedicated Japanophile and those not so familiar with Japanese or Asian culture, as well as those who want to spice up the usual socks and scarves present selection this Christmas. It's fun, colourful, diverse, and a great way to discover new and interesting trends.
Book your tickets at http://hyperjapan.co.uk/tickets/
£12 Friday and Saturday sessions, £15 Sunday
Date: 14- 16 November 2014
Venue: Kensington Olympia, National Hall, Hammersmith Road, Kensington, London W14 8UX
Web: http://www.hyperjapan.co.uk
Organiser: Cross Media Ltd.