Images of Japan 1885-1912: Scenes, Tales and Flowers – Sir Hugh Cortazzi, Former British Ambassador to Japan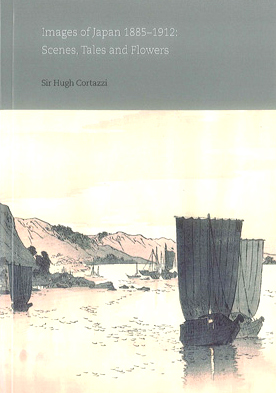 Drawing from extensive research, Sir Hugh Cortazzi will discuss his latest book Images of Japan 1885-1912: Scenes, Tales and Flowers, published by the Sainsbury Institute for the Study of Japanese Arts and Cultures. This introduction to the multiple forms of visual material, created in Japan from the latter part of the Meiji era and intended for European and American consumption, presents a wide variety of rare and exquisite prints depicting diverse subject matter. In particular, he will address the research process that led to its publication and share a number of examples not included in the book.
Images of Japan 1885-1912: Scenes, Tales and Flowers is available for purchase at the Japan Society store – click here. Author Sir Hugh Cortazzi will be available to sign books after the lecture.
Sir Hugh Cortazzi was born in 1924 and educated at St Andrews and London Universities. He began to learn Japanese in 1943 in the RAF. He joined the diplomatic service in 1949 and was the British Ambassador to Japan between 1980 and 1984. He was chairman of the Japan Society between 1985 and 1995 and was closely involved with the Japan Festival in the United Kingdom in 1991 which marked the centenary of the Society.
He has written various books relating to Japanese history and culture including Isles of Gold, Antique Maps of Japan (1983), Victorians in Japan (1985) and The Japanese Achievement (1990). Two of his recent books were Britain and the Re-opening of Japan, The Treaty of Yedo of 1858 and the Elgin Mission (2008) and Japan in Late Victorian London: The Japanese Village in Knightsbridge and the Mikado, 1885 (2009). He has also acted as editor and compiler of a number of volumes in the series Britain and Japan: Biographical Portraits. His translation of the Japanese Crown Prince's memoir of his two years at Oxford, The Thames and I, was published in 2006.
Date: Monday 15 October 2012, 6.45pm
Venue: The Oriental Club, Stratford House, 11 Stratford Place, London W1C 1ES