INSPIRATION and IMPACT: 25 years of the Praemium Imperiale Awards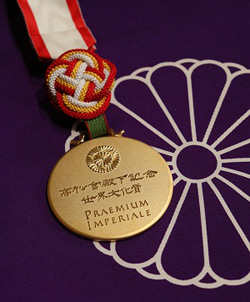 This year sees the 25th anniversary of the Praemium Imperiale Awards, and to mark this landmark year the Embassy of Japan is hosting the photographic exhibition INSPIRATION & IMPACT in collaboration with the Japan Art Association.
The Awards were established in 1988 to mark the centenary of the Japan Art Association, Japan's oldest cultural foundation. The first Awards were made in October 1989, and over the past 25 years 129 of some of the most influential artists of the late 20th and early 21st centuries have been selected.
The Awards are unique in that they celebrate greatness in five categories: Painting, Sculpture, Architecture, Music and Theatre/Film – categories not covered by the Nobel Prizes, with which the Awards are often compared.
His Imperial Highness Prince Takamatsu, the Honorary Patron and visionary behind the Awards, believed they would enhance understanding between Japan and the rest of the world. His successor, His Imperial Highness Prince Hitachi, the younger brother of His Majesty The Emperor, is committed to this vision and officiates at the Awards Ceremony that is held annually in Tokyo in October.
This exhibition celebrates the first 25 years of the Praemium Imperiale Awards and reminds us of the lengthy roll call of the many extraordinary Japanese and British artists who have been honoured in all five categories. In the first year of the Awards in 1989, British artist David Hockney was the first Painting Laureate. The most recent recipients from Japan and the United Kingdom have been the conductor Ozawa Seji, actress Dame Judi Dench, sculptor Anish Kapoor in 2011 and ballerina Morishita Yoko in 2012.
The names of this year's five new Laureates will be announced in Tokyo, London, Rome, New York, Paris and Berlin on 17th September 2013.
Date: 18 – 30 September 2013
Venue: The Embassy of Japan in the UK, 101 – 104 Piccadilly, London W1J 7JT
Email: info@ld.mofa.go.jp
Web: http://www.uk.emb-japan.go.jp/en/webmagazine/2013/09/praemium.html
Organiser: Embassy of Japan