Japan Foundation at Language Show Live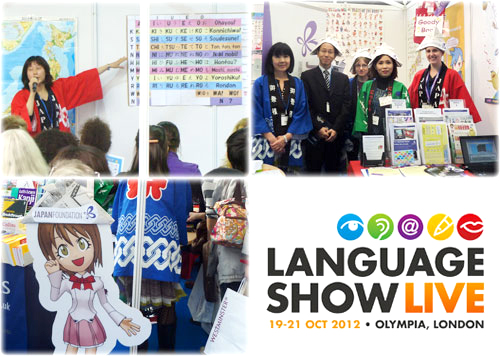 Come and see the Japan Foundation at Language Show Live 2012!
Language Show Live is the UK's largest language event and the show for those who offer products and services to language teachers, learners, translators, linguists, language professionals and businesses. This year, the Japan Foundation are giving visitors more chances than ever before to learn about Japanese language and culture. Our attractions will include:
The Japan Foundation Information Stand
When: 19th, 20th, 21st October (all day) Where: Stand no. 307
Packed full of information about studying and teaching Japanese in the UK, our stand will be staffed with members of Japan Foundation who would be delighted to give you advice on your Japanese studies. Our stand will also include:
* A Japan Quiz, with the chance to win a goody bag full of Japan Foundation exclusive gifts
* A purikura photo corner – get your photo taken, decorate your photo, write your name in Japanese and get it printed there and then!
* Free handmade origami models
* The stand will be shared with JP-Books, a supplier of Japanese books including learning resources for Japanese language.
Japanese Taiko Drumming Performance with Tamashii Daiko
When: Saturday October 20th, 13.00 – 13.30 Where: Cultural Arena
For the first time ever, the Japan Foundation are proud to present traditional Japanese taiko drumming with the Tamashii School of Taiko. Experience this exhilarating and spectacular performance of Japanese Taiko, learn some Japanese language and take the opportunity to try Taiko yourself!
Japanese Language taster (Taster Classroom)
When: Sunday 21st October, 11:15-11:45 Where: Taster Classroom
Experience Japanese language first hand by taking a taster lesson with one of Japan Foundation's own Japanese Language Advisors!
Don't miss out on the UK's biggest languages event – click here for more information and to book your place!
Date: 19 October 2012 – 21 October 2012 from 10.00am
Venue: National Hall, Olympia Exhibition Centre, Hammersmith, London W14 8UX (Stand No. 307)